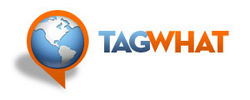 Santa Clara, CA (PRWEB) June 2, 2010
Speaking from Augmented Reality Event 2010, ARE2010, in Santa Clara, Iryss LLC, the Boulder, Colorado creator of Tagwhat (http://Tagwhat.com) introduces today two new features for its location-based, social augmented reality (AR) system, once again demonstrating its unique, innovative, and highly practical approach to location-based AR.
Using an on-line map driven interface or via mobile, Tagwhat users place digital tags, embedded with text, urls, or photos, anywhere on the Earth, from their street corner to another continent. By simply holding up the camera view of a mobile device (iPhone 3GS or Android), geo-contextual tags become visible.
Tagwhat Groups
Beginning today, Tagwhat users can create private or public groups inside Tagwhat at http://Tagwhat.com, assign tags to them, accept members, and moderate contributions. Grass roots AR creation is born! Create communities within Tagwhat and filter to see only a specific group's tags if you'd like. A number of practical use cases for this feature are:

Universities can group together tags for campus tours, school history, events, clubs, and sports. Students, alumni, and fans can contribute their own memories to specific groups and create a grass roots location-based community.
Candidates for political office can group together tags pinned at locations relevant to their campaigns. Now they can bundle those tags under a group heading and invite the community to contribute their own tags and comment on the candidate's tags, all in support of a people-driven political campaign.
Entertainers can group tags at places that matter to them, like where they're performing, where they like to hang out, and more. They can even attach new film clips, music, or "fans-only" ticket promotions at places where fans gather worldwide. By joining a Tagwhat group, people can contribute their own favorite memories and messages to this 'virtual' fan club and interact with fellow fans.
Tours and pub crawls are far easier to manage with grouped tag functionality. Simply tag the spots on the tour, group them, and invite other Tagwhat users to contribute their insights via AR tag along the route.
Create your own private groups to help manage tags you want quick access to or only wish to share with specific friends like "My August trip to Napa" or "Meet my newborn baby boy!"
Tagwhat's 'All Public' Channel
Also beginning today, Tagwhat users will be able to benefit from the wisdom of all the public tags in their vicinity regardless of who placed the tags. Previously, Tagwhat users could only see the tags placed by those they were following. By adding the Tagwhat 'All Public' channel, Tagwhat users have a far greater pool of information to see and use. While surfing the 'All Public' channel, Tagwhat users will find public information about their surroundings created by other users and even find other people with the same interests. The use cases for this feature are extremely compelling:
A traveler arrives in a city where she does not know anyone. By turning on 'All Public', she can search for a certain kind of restaurant, activity, or recommendation and immediately see tags placed by others there previously. If a particular Tagwhat user seems interesting, the traveler can 'follow' that user in Tagwhat, discovering a local expert to help guide her through her trip.
A reporter wants to evaluate public reaction to a particular news event. By turning on 'All Public,' the reporter can scan all the public tags in the vicinity for insight. The reporter can even contact the Tagwhat user through Tagwhat for an interview.
'All Public' will be a great way to find discounts in your vicinity. Simply turn 'All Public' on and see the coupons and other opportunities all around you, whether or not you 'follow' the person or business that placed the tag. A boon to small business, Tagwhat users no longer have to 'follow' you to see your promotion. Instead, all Tagwhat users in your vicinity viewing 'All Public' will see your tag and be able to act on it right then and there.
Bored? Turn on the 'All Public' channel to see what's going on in your area. Get turn by turn directions to tagged locations that interest you.
About Tagwhat
Tagwhat is the first of its kind create-and-share augmented reality network powered by social principles. It is a personalized global canvas that lets members explore the world and interact with friends and surroundings like never before on-line and via mobile for iPhone 3GS and Android. Tagwhat is the creation of Iryss, a team that has developed more mobile augmented reality than just about anyone else. The patent-pending Iryss AR platform fuels Tagwhat and other white-label AR-enabled applications. Iryss is based in Boulder, Colorado. For more information, please visit http://www.tagwhat.com or http://www.iryss.com.
Press Contact:
Dave Elchoness
CEO
Iryss
info(at)iryss(dot)com
+1-303-834-7121
###