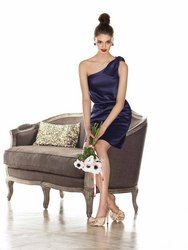 "The Dessy Group has always been an innovative company. We see location based marketing as one of the most exciting emerging technologies." Alan Dessy, CEO, The Dessy Group
(PRWEB) June 3, 2010
The Dessy Group launches the first ever multi-tiered bridal campaign with Foursquare. Dubbed a "social fashion collaboration", The Dessy Group, the leading manufacturer of bridesmaids dresses and bridal apparel that manufactures Cynthia Rowley Bridesmaids, Lela Rose Bridesmaids, Alfred Sung, After Six and Dessy Bridesmaids, has partnered with designer Cynthia Rowley and retailer, Lovely Bride. The result: a unique Foursquare campaign to debut the new Cynthia Rowley Bridesmaids collection at retail in New York, Chicago and Charleston.
The location based marketing initiative will launch Cynthia Rowley Bridesmaids to consumers at an event at the Cynthia Rowley West Village store (376 Bleecker Street) on Thursday, June 3rd from 6 to 8 pm. Rowley herself will host the event. Foursquare users who check in at the event will receive a gift certificate redeemable for bridal favors, accessories or apparel at http://www.dessy.com. Also, for one week following the event (June 4 – 10), guests who check in on Foursquare at Lovely Bride (313 W. 4th St.), a neighboring bridal shop carrying the Cynthia Rowley Bridesmaids collection, will receive additional incentives.
Similar events to launch the Cynthia Rowley Bridesmaids collection are scheduled in June in Chicago and Charleston.
Integrated into multiple social media channels, the campaign is also being promoted through Facebook, Twitter, and fashion and bridal blogs and websites. Dessy is also working with a digital agency, eRoi to distribute e-mail invitations to 100,000 customers.
Alan Dessy, CEO of The Dessy Group says, "The Dessy Group has always been an innovative company. We see location based marketing as one of the most exciting emerging technologies. By weaving Foursquare into our Cynthia Rowley events, and with our retail partners, we are all able to collaborate and engage our local brides. Dessy sees endless possibilities for loyalty and rewards programs using Location based tools and we intend to leverage this technology to provide our brides with a better retail experience."
###