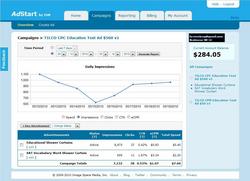 Until now, sophisticated analytics tools have been available for the most part only to larger agencies and brand advertisers.
New York, NY (PRWEB) June 2, 2010
Image Space Media, the leading provider of in-image advertising for the Internet has launched AdStart, a new self-service product that will allow marketers to quickly create targeted in-image ads and serve them on the Image Space Media in-image ad network of more than 4,000 publishers.
ISM's proprietary technology allows for audience targeting based on access to previously unavailable data and matches ads to the most appropriate images available. Advertisers can now create text based ads on both a cost-per-click (CPC) or cost-per-thousand (CPM) impression level. Like all ISM in-image ads, ads created using the AdStart self serve platform can be easily integrated into existing online advertising strategies.
"The introduction of AdStart allows small and midsized advertisers to create campaigns and manage them on the ISM network. We've presented an opportunity for them to not only serve more relevant ads, but encourage engagement and achieve better results, said Jesse Chenard, CEO, Image Space Media. "Any web advertiser can create and run their own campaign in minutes, reaching viewers with precisely targeted advertisements."
AdStart is the first of its kind, allowing advertisers to create in-image ads right from their desktops. The entire process takes just a few simple steps beginning with customizing the target audience and scheduling and frequency of delivery. Once the advertiser creates their text-based ad campaign, they set their bid price and fund their account using a credit card or PayPal with a minimum of $5.00 for prepaid accounts. The ads immediately begin running as overlays on contextually relevant images across the Image Space Media Network.
AdStart features reporting tools that ensure advertising goals are being met, including charts and reporting pages to track how many clicks an ad receives, conversion tracking and charts as well as reporting pages on how many impressions an ad receives.
"This is a great opportunity for smaller advertisers to increase sales and brand awareness, as well as leverage insight revealed by performance analytics," adds Chenard. "Until now, sophisticated analytics tools have been available for the most part only to larger agencies and brand advertisers."
Results revealed in beta testing have been impressive. An ad for The Intuitive Learning Company (TILCO), provider of innovative learning products that help students learn more efficiently utilizing common household goods as educational tools, performed extremely well. In comparison to a Google Adwords campaign for the same product, the CTR on the ISM AdStart campaign was more than 7 times higher at a fraction of the cost.
AdStart's launch comes shortly after the ISM's introduction of its PubStop platform, a detailed reporting and analytics tool for images that allows publishers to yield the highest return based on image data. Plans for a rich media unit are in the works over coming weeks.
About Image Space Media
Image Space Media is the leading provider of in-image advertising for the Internet, reaching more than 50 million unique users worldwide each month with its ad overlay solution. Image Space Media matches relevant advertisements and images across our network of 4,000 publishers and serves hundreds of millions of impressions per month. Image Space Media provides publishers with additional revenue for their sites and advertisers with an additional pipeline to reach their customers. Image Space Media's unobtrusive in-image advertising solutions combine relevancy with the brand impact of an evocative visual experience. Founded in 2008 and headquartered in New York, Image Space Media maximizes web advertisement space without compromising content integrity. For more information please visit http://www.imagespacemedia.com, follow @imagespacemedia on Twitter.
###