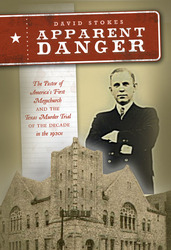 the most famous story most Americans have never heard.
Minneapolis, MN (Vocus) June 2, 2010
Author David Stokes and Bascom Hill Publishing Group announce the official release of Apparent Danger: The Pastor of America's First Megachurch and the Texas Murder Trial of the Decade in the 1920s. Rigorously researched and expertly presented, Apparent Danger tells the true story of controversial minister J. Frank Norris, the shooting, by Norris, of an unarmed critic in Norris's office and the explosive murder trial that followed. In July of 1926, Norris was the pastor of the largest Protestant church in America - the first Megachurch in the U.S. - leading a congregation of over 10,000 in Fort Worth, Texas. His murder trial created a national media sensation, and today the trial is often touted as "the most famous story most Americans have never heard."
Over six thousand documents were referenced during author David Stokes' extensive research for Apparent Danger. His immense knowledge of the era, the trial and Norris himself bring this history to life and has garnered Apparent Danger much advanced praise. Kirkus calls Apparent Danger "…a lively read and a window into the seething social and religious antagonisms of the Roaring '20s" and proclaims it "a fascinating study of a Texas-sized minister and the fraught fundamentalist culture he bestrode."
David Stokes is a minister, broadcaster, and author. He has written extensively for Townhall.com, The Richard Nixon Foundation, The Cold War Times, Preaching Magazine, Crosswalk.com, and The Intelligencer. Stokes is the senior pastor of Fair Oaks Church (Fairfax, VA) and hosts a daily radio broadcast heard in several local markets as well as across North America on XM Satellite Radio.
Bascom Hill Publishing Group is a small, independent publisher based out of Minneapolis, Minnesota. Bascom Hill has published nearly 100 fiction and nonfiction titles.
For information, please call or email publicist Jessie King, at 612-455-2293 x209, or visit http://www.apparentdanger.com.
###