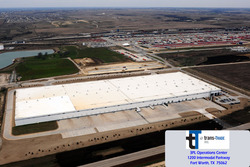 The combination of location and broad range of service offerings makes the BNSF/Trans-Trade collaboration one of the most exciting and innovative inland ports in the Southwest.
Dallas, TX (PRWEB) June 3, 2010
Trans-Trade, a leading Dallas/Fort Worth-based 3PL service provider, announces the grand opening of its Alliance 3PL Operations Center as a primary storage and added-value service hub for clients throughout the Southwest and Central US. The brand new facility has unparalleled access for all transportation modes with its location adjacent to the BNSF Intermodal Facility at Alliance, Texas, within 2 miles of the Alliance Airport, 30 minutes from DFW airport and 4 miles from Interstate 35W.
The new facility offers premium warehouse space with exclusive, private road access to the BNSF intermodal facility. Dan Beers, Trans-Trade's VP of sales, states, "Our new Alliance 3PL Operations Center offers our clients exciting new opportunities to expedite and economize on their intermodal freight and distribution center challenges. We have a lot of interest from container ship lines, importers, exporters and domestic intermodal clients because our building is the only inland port capable of handling heavyweight containers without expensive permits and equipment. Trans-Trade offers several innovative programs for heavyweight cargo that can save our clients a significant amount of shipping cost."
Trans-Trade is working closely with BNSF to streamline handling and offer rapid transloading and processing alternatives for containers arriving from the West Coast.
Steve Branscum, BNSF group vice president, Consumer Products, expressed strong commitment to working with Trans-Trade who will offer a variety of end-of-ramp service alternatives in collaboration with Trans-Trade. Branscum remarked, "The Trans-Trade facility near our Alliance Intermodal Facility offers clients immediate access to their freight. The combination of location and broad range of service offerings makes the BNSF/Trans-Trade collaboration one of the most exciting and innovative inland ports in the Southwest. We are committed to working with our ocean carrier partners to provide clients with all the advantages in service and value offered by this unique opportunity."
The Trans-Trade Alliance Warehouse is a full-service storage, distribution and 3PL facility. It maintains an authorized container yard (CY), is a US Customs Exam Station (CES) and Container Freight Station (CFS) and is certified as a foreign trade zone (FTZ). According to Brad Skinner, Trans-Trade's CEO, "We believe that the strategic location of this facility combined with the broad range of services we can offer at Alliance are a powerful and unique service offering. All organizations needing advanced distribution capabilities in the South and Central regions of the US can work with Trans-Trade, BNSF and container ship lines to create powerful supply chain solutions that offer clear competitive advantages."
And, as with all Trans-Trade facilities, all shipments, cargo and processing are monitored by the Trans-Trade Global Operating System (TT-GLS). TT-GLS provides end-to-end visibility and management of all material and activities with an advanced set of applications delivered through a secure Internet portal. Clients can track their material from origin to steamship to train to warehouse and beyond. In addition, TT-GLS offers advanced inventory management and replenishment functionality to support virtually all distribution center roles.
Trans-Trade, Incorporated is a full-service supplier of transportation and logistics services for clients in the United States and worldwide. Founded in 1984, Trans-Trade has grown to become a leader in innovative end-to-end supply chain solutions that provide a clear competitive advantage. You can learn more about Trans-Trade at Transtrade.com.
Trans-Trade, Inc. – 1040 Trade Avenue – Suite 106, DFW Airport, TX 75261 972-456-1581
# # #