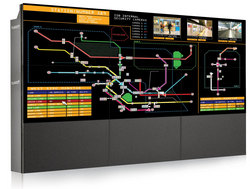 Beaverton, OR (PRWEB) June 2, 2010
Planar Systems, Inc. (NASDAQ:PLNR), a worldwide leader in specialty display solutions, today announced initial shipments of the Clarity™ LED Series of LED-illuminated rear-projection video wall displays.
With no consumable parts and a 60,000 hour life, the Clarity LED Series illumination system eliminates the ongoing costs and interruptions associated with lamp changes. The Clarity LED Series video wall displays combine maintenance-free, solid state LED-illumination with Planar's proprietary Clarity NaturalColor™ technology that intelligently maps a broader color palette to content, producing saturated and life-like colors. Clarity NaturalColor™ provides optimized color performance, which is critical in control room environments where image quality, consistency and accuracy are required.
"One of the shortcomings of LED technology to date has been the poor color quality and image clarity. Although LEDs can produce every color in the rainbow they often end up looking fake and animated," said Jennifer Davis, vice president of Marketing for Planar Systems. "That is why we developed NaturalColor Display Profiles, setting the Clarity LED Series apart by offering preset application-specific color spaces that provide customers the best visual performance possible for their particular application."
The Clarity LED Series includes five distinct video wall product offerings ranging in sizes and resolutions. The Clarity LED Series is currently shipping the c70HD-LED display (70" with 1920x1080 resolution), with the Clarity RP-LED (50" and 67" SXGA+ resolution) and the Clarity RX-LED (50" and 67" XGA resolution) rear-projection displays expected to ship in Q3 of calendar year 2010.
Clarity LED Series video walls will be unveiled at InfoComm 2010; stop by the Planar Systems Booth #C5658 for a demonstration. The Clarity LED Series is available for purchase through Planar's worldwide network of authorized control room resellers. For more information, please visit http://www.planarcontrolroom.com.
About Planar
Planar Systems, Inc. (NASDAQ:PLNR) is a global leader of specialty display technology providing hardware and software solutions for the world's most demanding environments. Hospitals, space and military programs, utility and transportation hubs, shopping centers, banks, government agencies, businesses, and home theater enthusiasts all depend on Planar to provide superior performance when image experience is of the highest importance. Founded in 1983, Planar is headquartered in Oregon, USA, with offices, manufacturing partners, and customers worldwide. For more information, visit http://www.planar.com.
SOURCE: Planar Systems, Inc.
MEDIA CONTACTS:
Planar Systems, Inc.
Kim Brown, 503-748-6724
videowallPR(at)planar(dot)com
or
INVESTOR CONTACT:
Planar Systems, Inc.
Ryan Gray, 503-748-8911
Ryan.Gray(at)Planar(dot)com
# # #