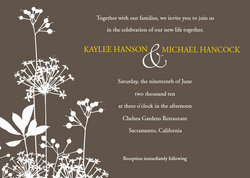 "We wanted to create an affordable, high-quality wedding invitation package that was friendly to the environment as well."
Spokane, WA (PRWEB) June 3, 2010
In keeping with their green business practices, MyGoodGreetings.com announces their new line of fully recycled wedding invitations for eco-minded couples. Available in both white and cream-colored high-quality recycled paper stock, these Green Seal Certified cards contain 30% post consumer recovered fiber and feature contemporary designs in the hottest designer color trends. The uncoated felt finish heavy weight card stock has a slightly textured surface which feels luxurious to the touch and prints spectacularly.
"Today's eco-concious couples are seeking ways to reduce their environmental impact even on their wedding day. They're as committed to love, as they are to the environment. We wanted to create an affordable, high-quality wedding invitation package that was friendly to the environment as well. Our new line of wedding invitations provide an easy way to make one simple green choice for your wedding day. Each wedding invitation package, including invitation, save the date, rsvp, directions and thank you cards are fully customizable online. Customers can pick and choose which matching pieces they want in their kit,"says René Bross, founder of MyGoodGreetings.com.
Making a conscious effort to be green every step of the way from printing to packaging, has helped MyGoodGreetings.com become the green leader in custom printed cards. All products are printed on digital presses with biodegradable toners. The recycled card stock is Green Seal Certified and manufactured with renewable power sources. Envelopes are FSC Certified and contain 100% post-consumer recovered fiber. No plastics or shrink wraps are used to package the products. Materials are wrapped in recycled paper and then sealed with a sticker – also recycled.
The EPA states that using recycled paper results in 74% less air pollution and 50% less waste water making recycled paper products a good choice for the environment. MyGoodGreetings.com constantly strives to make the greenest choices while providing top-quality customizable paper products.
Memorable celebrations deserve more than just an email or electronic message. Now you can make a lasting impression in print and be environmentally conscious at the same. Eco-minded brides-to-be may be wearing white, but they're green at heart.
###