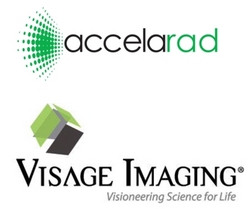 This new solution, which combines rigorous workflow requirements with the specialized 3D clinical functions typically associated with dedicated modality workstations or proprietary technology, allows us to enter the next generation in digital imaging technology
Atlanta (PRWEB) June 3, 2010
To advance its diagnostic image visualization technology, Accelarad, market leader in medical image cloud computing, has teamed up with Visage Imaging (ASX: PME) and will now offer the Visage 7 Universal Viewer application to power efficient thin client streaming for SeeMyRadiology.com (http://www.seemyradiology.com), Accelarad's new online community for medical image exchange.
With the Visage 7 Universal Viewer, SeeMyRadiology.com users - physicians, radiologists, 3D laboratory technicians, and others can harness the power and performance of the Visage 7 state-of-the- art streaming technology complete with user defined workflow, enhanced image manipulation capability, and advanced clinical applications for 3-D imaging, making this technology fusion a powerful new market force in medical image exchange.
"This new solution, which combines rigorous workflow requirements with the specialized 3D clinical functions typically associated with dedicated modality workstations or proprietary technology, allows us to enter the next generation in digital imaging technology," said Accelarad President Arman Sharafshahi. "We now offer an advanced technology solution to providers, who demand sophisticated tools yet need immediate access from any location on any platform. We are adding exceptional value, particularly in cardiology, neurology, and oncology, specialties that traditionally generate large datasets with complex manipulation requirements, which will allow all physicians to use standard PCs or Macs to access a very rich toolset via Visage's thin-client technology," said Sharafshahi.
The Visage 7 Universal Viewer was first introduced at RSNA in November 2009 and was received with great enthusiasm and market interest. This partnership with SeeMyRadiology.com creates a new robust market solution, explained Visage's General Manager John Danahy. "With the SeeMyRadiology.com platform, our unique technology becomes more than just a diagnostic tool for radiologists and their staff. The complete solution provides an alternative to the capital intensive, vendor locked model that has dominated the imaging market in the past decade and leverages the power of low cost SaaS delivery with high functioning applications that offer unsurpassed value."
About SeeMyRadiology.com
SeeMyRadiology.com, an Accelarad venture, is an online community for medical image exchange that is revolutionizing how imaging facilities, physicians, and patients store, share, and access medical images and reports. Via a cloud computing platform, SeeMyRadiology.com allows for easy collaboration and communication among health care providers and patients, dramatically improving access, costs, speed, and mobility of medical image exchange throughout the continuum of care. By fully complying with HIPAA privacy and security rules, SeeMyRadiology.com safeguards total patient confidentiality.
About Accelarad
Accelarad, an Atlanta-based company, is a market leader in medical image cloud computing. With the launch of SeeMyRadiology.com - its new online medical exchange community - Accelarad will continue to lead the industry, working with more than 600 facilities and 2,500 physicians, and processing more than 200 million medical images annually, serving as a new model for the delivery of radiology services through its virtual radiology network (VRN). Please visit http://www.accelarad.com or http://www.seemyradiology.com or call 1.888.883.4544 for more information.
Visage Imaging, Inc. – Visioneering Science for Life®
Visage Imaging, Inc., a subsidiary of Pro Medicus Limited, is a leading global provider of scalable enterprise Picture Archive Communication Systems (PACS), Radiology Information Systems (RIS), and Advanced Visualization (3D) for clinical and preclinical imaging. Designed as a cost effective, comprehensive Electronic Diagnostic Record (EDR) for hospitals and imaging centers of any size and topology, the Visage products offer fast access to data via thin-client, web streaming technology to optimize workflow efficiency within and beyond radiology. http://www.visageimaging.com
About Pro Medicus Limited
Pro Medicus Limited [ASX: PME] is Australia's leading medical IT and e-health provider. Founded in 1983, the company provides a full range of integrated software products and services to hospital, imaging centers and health care groups worldwide. http://www.promedicus.com
Visage, Visage Imaging, and Visioneering Science for Life are register trademarks of Pro Medicus Limited. Other product and company names mentioned may be trademarks and/or register trademarks of their respective holder.
Media Contacts
Aileen Kantor for Accelarad
Aileen(at)prhealthcare(dot)com
301-229-6782
Diane M. Clifford, Director of Global Marketing Communications
Visage Imaging, Inc./ Pro Medicus Limited
Dclifford(at)visageimaging(dot)com
978-662-5401
###