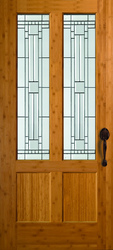 The Builder's Advantage Series balances beauty, performance and cost, offering durable exterior wood doors that are attractive in both appearance and price
Mccleary, WA (Vocus) June 4, 2010
For over 15 years, builders and design professionals have been turning to Simpson® Builder's Advantage® Series doors for their high-end look and exceptional value. With beautiful decorative glass options in a variety of wood door designs, the Builder's Advantage Series helps meet design goals and customers' expectations at an affordable price. Continuing the tradition, Simpson has added five new doors to the series. simpsondoor.com
Four of the doors feature a new decorative glass with clear textured panes outlined by black caming and set in a modern, geometrical configuration. The new doors include the Greenwich™ French door, which offers a full lite option; the Scarborough™ has one lite covering three-quarters of the door, and two vertical wood panels at the bottom; the Plymouth™ door is a two panel, two lite design; and the Portsmouth™ features four panels with one lite, offering customers multiple combinations to match their homes and personal preferences. To complement these doors, a matching sidelight and transom are available.
The fifth door, the Exeter™, showcases an existing Builder's Advantage Series glass option in a four panel, craftsman style door design. The decorative glass is accented by a delicate floral pattern and is available with brass, silver or black caming. A dentil shelf can add aesthetic interest.
"The Builder's Advantage Series balances beauty, performance and cost, offering durable exterior wood doors that are attractive in both appearance and price," says Brad Loveless, Marketing and Product Development manager for Simpson Door Company. "The new designs provide a fresh selection for customers to choose from when looking for the right door to fit their homes and budget."
Simpson Builder's Advantage Series doors are available in multiple heights, widths, and wood species. For more information on the Builder's Advantage Series and other Simpson doors, visit simpsondoor.com or call (800)-SIMPSON.
About Simpson Door Company
With nearly a century of experience, product innovation and industry-leading design, Simpson Door Company has become the trusted source for impeccably crafted wood doors. Simpson's comprehensive line of interior and exterior stile and rail doors includes hundreds of standard options from panel to French to decorative entry doors with matching sidelights and transoms. Available in a variety of wood species, sizes and glass options, Simpson provides customers with the door they desire, whether it is a standard design or a one-of-a-kind custom door. To find out more about Simpson doors, visit simpsondoor.com or call (800)-SIMPSON.
###