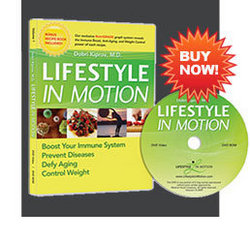 Diets don't actually work in the long run.
San Francisco, CA (PRWEB) June 2, 2010
America is in a health crisis. According to a recent report by the CDC, 45 percent of adults have diagnosed or undiagnosed high blood pressure, high cholesterol, or diabetes. The report also states—about 3 percent of adults have all three conditions and 1 in 7 adults have one or more of these medical conditions undiagnosed. To create a healthy immune response, it's vital to build up the immune system.
Dr. Dobri Kiprov, a pioneering immunologist and Chief of Immunotherapy at California Pacific Medical Center in San Francisco, has dedicated his life to sharing his passion for affordable health, vitality and longevity programs and he says—"you don't have to break the bank to achieve it!" An unhealthy lifestyle is the leading cause of common life threatening illnesses such as heart disease, obesity, and cardio vascular disease. And, according to Dr. Kiprov, a healthy lifestyle is the best way to prevent these diseases.
Lifestyle in Motion: World respected immunologist Dr. Dobri Kiporov created the Lifestyle in Motion program to teach and promote a healthy yet enjoyable way of life. The Lifestyle in Motion staff includes certified experts in immunology, anti-aging medicine, nutrition, the physiology of human body, kinetics and advanced relaxation techniques. The program utilizes cutting edge educational technology to teach disease prevention, and progressive anti-aging protocols to promote an all-encompassing healthy lifestyle--all without fad diets and expensive gym memberships.
Why Diets Don't Work: "Diets don't actually work in the long run," said Dr. Kiprov. "Strict diets work for a short period of time, but the restriction of caloric intake and nutrients is very difficult to sustain. Eventually, people get off the diet, and it becomes a vicious yo-yo cycle of dieting and not dieting. What we offer is something new, an enjoyable healthy lifestyle, not a restrictive unsustainable diet."
Food Is Medicine: Lifestyle in Motion focuses on food management including which foods to buy, such as local fruit and vegetables. The program focuses on the medicinal power of many foods and how people can best use them to prevent diseases, defy aging and control weight.
Life = Motion: Lifestyle in Motion teaches simple stretches and exercises that anyone can fit into their everyday life, both at home and while traveling.
Dr. Kiprov's extensive experience has led to the development of affordable educational programs, which build the immune system and immune response. His unique approach combines delicious recipes and effective exercise regimens all geared towards achieving optimum health. To learn more visit http://www.lifestyleinmotion.com or http://www.dobrikiprov.com.
###