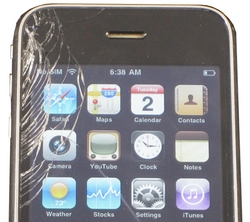 Our lives have been absolutely crazy for the past 18 months...By opening these 3 new stores and hiring people, we are confident we can fix more iPhones and simultaneously increase the types of repairs we do.
Chicago, IL (PRWEB) June 3, 2010
Jet City Devices announced today the opening of 2 new cell phone repair shops in Chicago and 1 new location in Seattle. These stores will initially focus on iPhone repairs, but owner Matt McCormick says they will soon be adding more phones to their repair repertoire.
"Our lives have been crazy for the past 18 months," said Mr. McCormick. "My business partner and I have personally fixed over 2000 iPhones in that time. We've added a few other repairs, like the T-Mobile G1 and Blackberry Bold 9000, but we have been so busy keeping up with iPhone repairs that we haven't had time to explore new offerings. By opening these new stores and hiring people, we think we can fix more iPhones and increase our list of repairs."
The story of Jet City Devices started in mid-2007 when Mr. McCormick quit his job at Microsoft to start a small company building websites for small businesses. His customers frequently asked about search engine optimization (SEO), Google Adwords, copywriting, and more. He decided the best thing to do was start his own online business to practice various web techniques.
"It's amazing how fortune smiles on you when you least expect it," says Matt when talking about the origins of Jet City Devices. "I was trying to decide what kind of online company I could run when I broke the screen on my T-Mobile Dash. T-Mobile told me my only option was to buy a new phone, so I put down $299 to replace my phone. Two weeks later I stepped on my brand new phone and broke it again."
Instead of shelling out another $300, Mr. McCormick went online to do some research. An hour later, he had found a replacement LCD and tools for $40. "That first repair was an experience," he recalls. "I spent over 2 hours trying to figure out how to get everything apart and back together again. But in the end, I had my phone working like new. That's when I realized: This has to be a problem for other people. My search for a practice business was over - I would fix phones for people."
Armed with this new business idea, Matt quickly threw together a new website and set up a Google Adwords account. "It wasn't the world's prettiest site," he recalls, "but within a week I had cracked T-Mobile Dash phones showing up in my mailbox." For several months the business continued to receive 4 or 5 phones in the mail every week. Then Mr. McCormick decided to take a week off from his web building business and focus on marketing his cell phone repair company.
"I redesigned the website, added a new phone repair, and started offering a local repair option to go along with the mail-in service. Immediately I went from fixing 5 phones a week to 20 phones. Half of those were in-person repairs." Mr. McCormick chuckles when he thinks about those early in-person repairs. "I worked out of my apartment and didn't feel comfortable asking people to meet me there. So I'd setup appointments at Tully's coffee shop down the street. I'd talk to people on the phone and say, 'I'll be the guy in the bright yellow hat drinking a medium coffee.' I'm sure people thought it was weird but once their phone was fixed they didn't seem to mind."
After a couple months juggling his new cell phone repair business and web building company, Matt decided it was time to pursue fixing phones full-time. "A friend of mine looked at me one day and said, 'This isn't a practice website anymore. This is a real business.' I asked him if he wanted to be my business partner, he said yes, and things took off." That was December of 2008, and the new business partner's name was Tom Lorimor. He actually interviewed Mr. McCormick in 2003 for his job at Microsoft. The two became co-workers and friends.
Mr. McCormick recalling their first joint decision: "The iPhone was the hottest thing on the market and we new we had to fix it. That was the best business decision I ever made. The second best decision was for me to move and start a Chicago office. Fixing iPhones in two big cities allowed us to really grow."
The move occurred in March of 2010 and sales are up over 700% since then. Almost all of those repairs have been done by the owners themselves. "We were so busy fixing iPhones," according to Mr. Lorimor, "we didn't have time to think about adding repairs, expanding our marketing, or even take a vacation. We could barely keep enough inventory in stock. So Matt and I had a company meeting and decided that to take the business to the next level, we needed to hire some people, setup store fronts, and focus our personal efforts on growing the business."
And that brings us to today's announcement of 3 new Jet City Devices' locations. The Chicago branch will be opening one repair center on the north side at 5564 West Farragut Street and another on the south side at 14808 Cicero Avenue. The Seattle location has not been finalized yet but should be up and running by early July.
"We are so happy at the moment," said Mr. McCormick. "First, customers will no longer have to setup appointments for a repair like they do now. People can just come in whenever we're open. We're also going to have better hours and lots of free parking at all of our new locations. Lastly, given the state of the American economy, we're really proud to be hiring people. It's a very exciting time for us, our customers, and our new employees."
# # #