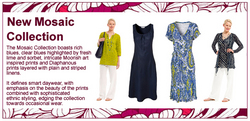 (PRWeb UK) June 4, 2010
The collection's rich blues echo traditional Islamic tiles and would be a fresh introduction to any summer wardrobe. There is also a range of clear blues ranging from Mirage to Lyon that are highlighted by fresh Lime and Sorbet and grounded to Marine and White.
Prints within the Mosaic Collection are primarily inspired by Intricate Moorish art and translated into cottons, linens and silks. Diaphanous prints are layered with and stripped linens for a cool sophisticated look. The new monochrome stripe print is designed to draw the eye down the figure for a really flattering look. It also takes references from the tribal trends of the Far East.
The Mosaic Collection defines smart daywear, with emphasis on the beauty of the prints combined with sophisticated ethnic styling, edging the collection towards occasional wear.
About East
East, designed to be individual. The product was originally designed for women who love individual, natural fabrics, with an ethnic feel. We remain true to these values today. Our products were then and are now heavily influenced by the time honoured traditions of the Far East incorporating, 'hand' crafted embroideries, wonderful evocative prints and vibrant colours to create our distinctive outfits. The collections include soft knitwear for easy layering, beautiful silks and simple linens. Finally, as all our clothes are designed in-house, they are genuinely unique.
Jewellery and accessories are important additions to any outfit; and there is an eclectic collection sourced from all over the world, including Thailand, India and the Philippines. using predominantly natural materials such as wood and shell, and even seed pods.
EAST Ltd
55 Kimber Road
London SW18 4NX
TEL: 020 8877 5900 FAX: 020 8877 5901
Customer Services: 020 8877 6543
###