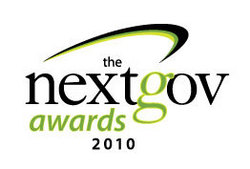 The selection of winners was exceptionally difficult due to the outstanding quality of all nineteen finalists
Washington, DC (Vocus) June 3, 2010
Government Executive Media Group announced eight winners of the 2010 Nextgov Awards in front of a capacity luncheon audience last Friday at the Washington Convention Center. The Nextgov Awards Luncheon honored all nineteen finalists for the awards and featured remarks by Blair Levin, former director of the FCC Broadband Task Force.
The Nextgov Awards are designed to recognize federal professionals who have created innovative programs, policies or management practices that rely on technology to improve government operations. The awards program is produced by Nextgov.com, the technology-focused online publication of Government Executive Media Group.
"The selection of winners was exceptionally difficult due to the outstanding quality of all nineteen finalists," remarked Allan Holmes, Executive Editor for Nextgov. "Nextgov is honored to have the opportunity to recognize the creativity and courage all of these individuals demonstrated in conceiving and successfully driving new ideas to advance government."
The inaugural winners of the Nextgov Award are as follows:
Anita Kelly Bible
Social Security Administration
Susan Burrill
Homeland Security Department
Daniel Hogan
Interior Department
Christopher Jackson
Joint Forces Command
Lynn Mokray
Air Force
Tiffany Smith
State Department
Daniel Stoian
State Department
Jeffrey Wheeler
Coast Guard
More information on all of the finalists, including descriptions of their accomplishments, is available at http://www.nextgov.com/nextgov_awards/awards_honorees.php.
The 2010 Nextgov Awards program was underwritten by IBM, MarkLogic, Merlin, TMP Government and Red Hat.
About Nextgov
Nextgov.com is the #1 federal technology web site, attracting more visitors than any web site dedicated to the federal technology community.* Nextgov.com is designed as a meeting place for government and industry managers to share insights on deploying IT successfully to achieve agency missions. The Nextgov.com community is lead by Executive Editor Allan Holmes and features exclusive reporting by leading technology journalists such as Bob Brewin. Visit http://www.Nextgov.com.
About Government Executive Media Group
Government Executive Media Group is the premier media resource for federal managers and the #1 marketing platform for federal contractors. The magazine and related online, events and research properties cover the entire spectrum of management challenges confronting federal executives across civilian and defense agencies. For more information, visit http://www.GovernmentExecutive.com or http://www.nextgov.com.
Contact: Will Colston 202.266.7423
*Compete.com, 2010 & Market Connections, Inc. Federal Media Habits Study, 2009-2010.
###