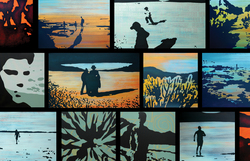 "Correspondences" and "Elevation" are a hymn to nature and also carry nostalgia and sadness for a lost paradise which echoes what is happening right now in the Gulf of Mexico.
San Diego, CA (PRWEB) June 4, 2010
Seas, oceans and deserts have always been part of Guieu's life. She was born in Marseille, a French town on the Mediterranean sea. She then lived in Dakar for several years, on the Atlantic Ocean and in the Saharan desert. When living in Paris, she would often go to the Atlantic Ocean. Living in California, she now finds inspiration in both the Pacific Ocean and the surrounding deserts. She spends time watching people walking on the beach. In the desert, the people in the paintings are mostly her family.
Guieu is profoundly attached to empty landscapes and spaces. This attachment was given to her by her father at a young age. "The Flower of Evil", where one can find "Elevation" and "Correspondences" was the first book of poems her father gave to her when she was in her early teens. She read "Elevation" at his funeral.
These two poems are a hymn to nature and also carry nostalgia and sadness for a lost paradise, which echoes what is happening right now in the Gulf of Mexico..
Michele Guieu takes photos wherever she goes. She then work these photos in Photoshop, keeping only the essential elements. In the end she paints the images on large canvases.
"When I started to organize the pieces that now constitute this series, I used canvases that were identical in height but variable in width. They fit together both physically and in content, like stanzas of a poem. Some of these paintings were originally created as diptychs, and the diptychs appear in their entirety here.
The arrangement and composition of this group of paintings invites change. This composition could absorb new paintings; pieces could be reorganized and presented differently in spaces of different proportions.
For this exhibition, I considered the dynamics of the space first and experimented with the size of the wall and the scale of the art, and the way one can read the piece as a whole from a distance and read each element when being up close.
Each element is a result of my experiments with outdoor spaces. This exhibition is an opportunity for me to experiment with bringing these elements into a relationship with indoor space.
I borrowed the title "Correspondences and Elevation" from two of my favorite Baudelaire poems. Those poems express a connection to a sequence of scenes from a life and a living landscape."
"Correspondences" by Charles Baudelaire
"Elevation" by Charles Baudelaire
Michele Guieu's website
Michele Guieu's blog
BIOGRAPHY
Michele Guieu is a graduate of the Ecole Nationale Superieure des Arts Decoratifs de Paris (Master of Graphic Design and Multimedia), Paris, France. She is a recipient of the 2009 San Diego Art Prize in the Emerging Artists Category. Guieu recently had a solo exhibition at Art Produce Gallery and participated in shows at the California Center for the Arts, the Oceanside Museum of Art and the William Cannon Art Gallery. She will have a solo exhibition at Project X: Art in December 2010. Michele Guieu lives and works in San Diego.
WHERE
San Diego Art Institute
1439 El Prado, San Diego, CA 92101
(619) 236 0011
FAX: (619) 236 1974
WHEN
INSTALLATION of the show: Monday, June 14, to Thursday, June 17.
The OPENING RECEPTION IS FRIDAY, JUNE 25, FROM 6 TO 8pm.
the show runs from June 18 to July 18, 2010.
Museum Admission:
$3 for Adults
$2 for Seniors, Military & Students with ID Children 12 and under are admitted free
Museum Hours: Tues-Sat 10 a.m. to 4 p.m. and Sun 12 noon to 4 p.m.
CONTACT SAN DIEGO ART INSTITUTE:
KERSTIN ROBERS
email: KRobers(at)mola-sdai(dot)org
(619) 236 0011
###