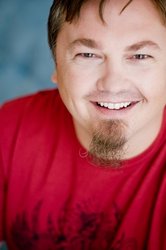 Winter Park, FL (PRWEB) June 3, 2010
Full Sail University has just announced the addition of an exclusive performance by musical artist Edwin McCain of Saguaro Road Records to the 2010 Hall of Fame event schedule.
McCain recorded his first major label album in 1994 and since that year, has achieved a successful career as an American alternative rock singer/songwriter and musician with massive pop hits, "I'll Be" and "I Could Not Ask for More." On the evening of the Hall of Fame induction ceremony on June 7, McCain will perform a private concert in the new Full Sail Live, part of the Full Sail Studios Gateway Project, exclusively for Hall of Fame inductees and their families, as well as VIP guests.
McCain will be joining the Hall of Fame three-day schedule of events, which also includes a concert for Full Sail University students, staff and faculty on Wednesday, June 9 by Teleprompt/Warner Bros. recording artists, MUTEMATH. In addition, The Hall of Fame event will welcome celebrity and industry friends of Full Sail and will include: Tionne "T-Boz" Watkins of the four-time GRAMMY-winning group TLC, Deborah Gibson, Chris Kirkpatrick of N'Sync, Fred Schneider of The B-52s, Jeff Timmons of 98 Degrees, Mannie Fresh, The Superions, industry professionals from Lost, How to Train Your Dragon, Fame, Red Dead Redemption, the Halo wedding couple, and a host of GRAMMY and EMMY winners.
Also in attendance for the Hall of Fame ceremony and morning event ribbon cutting of the Gateway Studios will be: U.S. Congressman Alan Grayson, Florida Senate President Jeff Atwater, Speaker Designate of the Florida House of Representatives Dean Cannon, Orange County Mayor Richard Crotty, Orange County Commissioner and Mayoral candidate Bill Segal, President & CEO of the Metro Orlando Economic Development Commission Ray Gilley, and President & CEO of Enterprise Florida John Adams.
For more information on the Hall of Fame and the Full Sail Studios Gateway Project, please visit: http://www.fullsail.edu/about/press-room/full-release/2010-05-27-hof-studios-2010.
About Full Sail University:
Since 1979, Full Sail University, located outside of Orlando, FL, has been an innovative educational leader for those pursuing careers in the entertainment industry. With over 34,000 alumni, graduate credits include work on OSCAR®, Emmy® and GRAMMY®-winning projects, best-selling video games, and #1 grossing U.S. concert tours. Full Sail's 191-acre campus and online education platform proudly welcomes over 8,800 students from 50 states and 57 countries.
Full Sail currently offers a total of 28 degree programs including: Associate of Science Degrees in Graphic Design and Recording Engineering; Bachelor of Science Degrees offered in: Computer Animation, Digital Arts & Design, Entertainment Business, Film, Game Art, Game Design, Game Development, Graphic Design, Internet Marketing, Music Business, Music Production, Recording Arts, Show Production, and Web Design & Development; Master of Science Degrees in Education Media Design & Technology, Game Design, Entertainment Business, and Internet Marketing; and Master of Fine Arts Degrees in Creative Writing and Media Design.
Full Sail was most recently named the 2008 "School/College of the Year" by the Florida Association of Postsecondary Schools and Colleges. The university has also been previously named: The Harvard of Game Schools by Tips & Tricks Magazine; one of the top three New Media Schools by Shift Magazine (alongside the Massachusetts Institute of Technology and New York University); one of the Top Five Game Degree Programs in the world by Electronic Gaming Monthly; one of the Best Music Programs in the country by Rolling Stone Magazine; one of the Best Music Business Departments in the Schools That Rock: The Rolling Stone College Guide; and one of the Best Film Programs in the country by UNleashed Magazine.
For more information about Full Sail, please visit http://www.fullsail.edu.
###