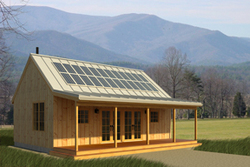 One of stated goals is to bring our customers great home design at affordable prices. That is why we are so excited about our Custom Home Design Service
Novato, CA (PRWEB) June 15, 2010
Houseplans.com has launched their Custom Home Design Service starting at $3,500 per design. This new service will give home builders and home owners access to efficient custom home design at a truly affordable price. Customers will work through multiple rounds of floor plan and home elevation design iterations to create their ultimate home blueprints, with the entire process taking as little as two weeks. All Custom Home Designs will be delivered by a talented group of in-house architects and engineers who will guide customers through the home design process.
With their Custom Home Design Service, Houseplans.com looks to change the landscape of the house plans and home design market. This new service will make it possible to create a brand new home design with full construction documents for roughly 65% less than it would cost to use a custom home designer or architect. Offering this service at such an attractive price point will allow HousePlans.com to grow the home design market, and provide new consumers, builders, and developers access to a custom design service for the first time.
To deliver this new Custom Home Design Service Houseplans.com has partnered with the green home design start up, FreeGreen.com. Through this partnership both firms will merge their strengths by harnessing Houseplans.com's industry prominence and large web traffic, and FreeGreen.com's high quality and efficient home design services. Houseplans.com began taking orders for the Custom Home Design Service on June 10th, 2010 and it will be rolled out to all Houseplans.com users throughout the month of June.
"One of our stated goals is to bring our customers great home design at affordable prices. That is why we are so excited about our Custom Home Design Service. Never before has anyone offered a such a high quality design service at such a low price. With our Custom Home Design Service we are giving our customers another great option, and allowing them the ultimate flexibility and creativity in their home needs," said Will Thacher, CEO Houseplans.com.
David Wax, CEO of FreeGreen.com said, "We are always looking to bring higher quality, home designs to the masses. We think that our Custom Home Design Service developed in partnership with Houseplans.com is the perfect vehicle to transform the custom home design market."
About Houseplans.com
Houseplans.com, based in Novato, California, makes quality home design affordable to a wide popular audience by using all the resources of the Web to streamline a complex process. Their easily searchable database of more than 28,000 plans functions as a vast library of design ideas that includes, their Exclusive Studio Collection, Rare Historical Plans, and thematically organized designs.
About FreeGreen.com
FreeGreen.com, based in Charlestown, Massachusetts has quickly become the leading provider of green home design distributing over 40,000 house plans per year. FreeGreen operates under a unique "freemium" model in which they offer both advertising sponsored free house plans, and various levels premium memberships and other services which allow users to gain access to FreeGreen's full house plan library. All FreeGreen homes are designed to be 30% to 50% more efficient then typical building codes.
###