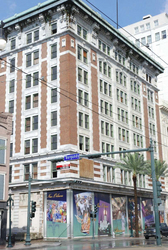 "We partner with our customers to find solutions, even in the most challenging situations," stated RE/MAX Commercial Brokers president Richard Juge. "We are thrilled to see such a reputable hotel become a part of our great city of New Orleans."
New Orleans, LA (PRWEB) June 4, 2010
RE/MAX Commercial Brokers listing agents, Richard Juge, CCIM, SIOR and Robert Hand, MBA, are pleased to announce the final sale of 931 Canal Street to Mark Wyant for an undisclosed amount.
Originally built in 1909, the historic building located on the corner of Canal and Burgundy Streets sits adjacent to Ritz Carlton. Previously known as the Audubon Building, the property will be renovated into an upscale boutique Hotel Indigo. This 8-story, 131,000 square foot hotel will include guest rooms, fitness center, Phi Bar & Bistro, and an on-site casual gourmet restaurant.
RE/MAX Commercial Brokers orchestrated the challenging transaction utilizing their wealth of knowledge and resources. The foreclosed property had been vacant for more than three years when RE/MAX Commercial Brokers began aggressively marketing the property in July 2009. In a matter of four months, 75 potential buyers expressed interest in the property, leading to four written offers. When the seller's lead bank was acquired by the FDIC, the agents worked with the bank consortium and, assisted the buyer in building a team of experts including architects and historic tax credit specialists who secured financing for the buyer.
"We partner with our customers to find solutions, even in the most challenging situations," stated RE/MAX Commercial Brokers president Richard Juge. "We are thrilled to see such a reputable hotel become a part of our great city of New Orleans."
About RE/MAX Commercial Brokers, Inc.
RE/MAX Commercial Brokers New Orleans area offices are professionally staffed and have ten full time commercial only agents with decades of experience ranging from brokerage (leasing & sales), development, consulting, and property management. We have specialists in Office, Industrial, Retail, Multi Family, Condo Development, Land, and Historic Properties. Our clients range from international corporations to local businesses. We serve a wide range of companies and also specialize in cooperating with other national brokers.
RE/MAX Commercial Brokers, Inc.
3331 Severn Avenue-Suite 200
Metairie, Louisiana 70002
Office: 504-838-0001
Fax: 504-835-0900
http://www.nolacommercial.com
###