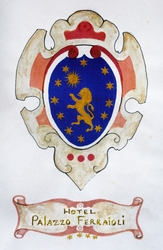 The Hotel Palazzo Ferraioli is a beautiful four-star hotel in the heart of the Amalfi Coast.
ATRANI, AMALFI COAST (PRWEB) June 4, 2010
The Hotel Palazzo Ferraioli, a unique19th-century residence lovingly transformed into a fabulous four-star boutique hotel, is proud to announce its grand opening. After a meticulous restoration, the newest and most distinctive hotel on the Amalfi Coast looks forward to welcoming guests beginning on June 10, 2010.
Located in a quiet neighborhood within easy walking distance of the town of Amalfi, the Hotel Palazzo Ferraioli blends a rich appreciation for history with a daring, creative and modern design aesthetic. Each of the 25 guestrooms exudes bold elegance, with bright and eclectic furnishings balancing the structure's beautiful historical elements. All rooms enjoy a balcony or window view of the sea and the village, along with luxurious private baths featuring hot tubs and showers.
The Hotel Palazzo Ferraioli's spectacular terrace, decorated with historical ceramic tiles conserved during the restoration, offers guests unparalleled views of the Mediterranean and mountainside. The reception desk is staffed with a knowledgeable and multilingual team, experienced in the highest levels of hotel management and service.
The Hotel Palazzo Ferraioli is centrally located in the village of Atrani, just steps away from the town of Amalfi. Hotel guests enjoy a sumptuous breakfast buffet, along with an outstanding full-service restaurant featuring the best of local cuisine. Rooms combine beauty and comfort, with air conditioning, satellite TV, high-speed Internet, mini-bar, safe and telephone. Superior rooms also have luxurious Jacuzzi baths.
Long considered one of the most beautiful places in the world, the Amalfi Coast has a rich and storied history going back at least one thousand years. A series of tiny towns cling to the mountainside, overlooking the blue waters of the sea. The charming towns are connected by the famous Amalfi Drive, a white-knuckle cliff-side ride along a tiny strip of road. The Hotel Palazzo Ferraioli is in a quiet neighborhood within easy walking distance to the shops, restaurants and sights of Amalfi.
Rates range from €160 to €290, including taxes and buffet breakfast. For more information, please visit us at http://www.palazzoferraioli.it.
###