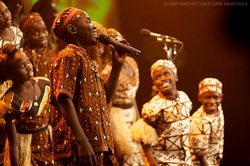 Rescue a Child, Raise a Leader and Rebuild a Nation
(Vocus) June 4, 2010
Watoto means "The Children", and these children are on a mission. Through their inspirational songs and compelling stories, the Watoto Children's Choir is spreading a message of hope for Africa's children.
The goal of Watoto is to raise the next generation of Ugandan leaders by pursuing excellence in academic and practical skills, integrity in conduct and moral values, so that each child becomes a responsible and productive citizen. Watoto is currently caring for over 1600 parentless children by providing physical, emotional, educational and spiritual care.
Since 1994, the Watoto Children's Choirs have toured internationally as ambassadors for the orphan children of Uganda bringing a message of hope to countries such as Australia, Canada, Europe, USA, South Africa, Brazil, and Israel. "Concerts of Hope" inform people of Watoto's vital work and afford audiences the opportunity to participate in restoring hope and dignity to some of Africa's most needy children.
Each child in the choir has experienced tremendous personal tragedy, having lost one or both parents in the African AIDS crisis or other calamities. Now through their music and dance, they share Watoto's vision:
"Rescue a Child, Raise a Leader and Rebuild a Nation"
The choir's music and multimedia presentation is a soulful fusion of gospel and contemporary African style. Dressed in colorful costume, the children's enthusiastic song and energetic dance has moved audiences world-wide.
Concerts in Orlando Area
5-Jun-10 1st Baptist Church Sing a Song with Kari Jobe 3000 S John Young Pkwy Orlando 6:30pm
6-Jun-10 Faith Outreach 300 W State Road 434 Oviedo 10:00am
8-Jun-10 Oak Level Church 10564 2nd Ave Ocoee 7:00pm
9-Jun-10 Sanctuary Church 2701 Conway Gardens Rd Orlando 7:00pm
10-Jun-10 Saint Philip Lutheran 1050 Boyd Dr Mt Dora 7:00pm
11-Jun-10 Deeper Life Assembly 8825 A D Mims RD Orlando 7:30pm
12-Jun-10 Spirit of Joy Lutheran Church 1801 Rouse Rd Orlando 7:00pm
13-Jun-10 Ridge Assembly 41219 Highway 27 Davenport 9:00 & 10:30am
13-Jun-10 Calvary Chapel of Merritt Island 3500 N Courtenay Pkwy Merritt Island 6:30pm
14-Jun-10 SBC Convention @Orange County Convention Center 9800 International Drive Orlando 2:50 & 6:00pm
15-Jun-10 Brevard Community Fine Arts Auditorium hosted by Riders against Violence Community event 1519 Clearlake Rd Cocoa 7:00pm
###