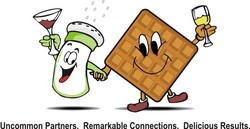 I am on a mission to guide business owners to become capable, confident, equipped, and connected to engage and profit from the STRATEGIC use of social media.
Seattle, WA (PRWEB) June 2, 2010
What do penguins, precious gems, and salty waffles have in common? The answer is Nicole Donnelly. Donnelly is an entrepreneur who is parlaying her success in retail soft goods to a host of new initiatives relating to social media measurement software and more. Salty Waffle is a blog that is the hub for all of Donnelly's business initiatives and where readers can visit and engage to learn more and participate in social media training programs and social media hook up and match making events, including the first one to take place June 9 at 5:30 p.m. in Seattle, WA.
Donnelly launched Babylegs LLC and grew it over a four year period from zero to millions. Today, the company she launched and sold to a major hosiery manufacturer enjoys worldwide retail distribution of leg and arm warmers for babies and children. Donnelly credits the meteoric growth of Babylegs to the power of connecting with the right people to carry a relevant message forward.
Donnelly has learned some powerful lessons about social media along her journey to entrepreneurial success. Among them:
1) Find the people who care about what you are doing.
2) Connect with them through forums, Facebook, Twitter, and in the ways that ideal prospects and clients enjoy using the most;
3) Be clear about why you are online. Consider that may be to advance goals as they relate to sales, list building, joint venturing, and more.
4) Don't always talk about yourself. Invest at least 50% of your time or efforts online talking about other people who you believe are fabulous.
5) Try out different messages. Some readers will respond warmly to personal posts, and others prefer business specific messages. Find the balance that works best for the ideal customers that matter for the business at hand.
6) Measure efforts, and try, try again.
Having learned these lessons and built and sold a profitable company, today Donnelly is on a mission to guide business owners to become capable, confident, equipped, and connected to engage and profit from the strategic use of social media. To that end, she debuts a host of new initiatives in play to guide others to achieve the stellar business success she earned, one social connection at a time.
Ride Like a Penguin is her new book that, among other things, takes the reader through the process of creating high impact messaging and assembling an effective virtual street team to deliver a company's message exactly where it needs to be.
BigRuby is a new online tool Donnelly created to automate social media campaigns and measure their return. Its goal is to make it easy for business owners to nurture their super fans and give them more love instantly.
Salty Waffle Social Media Boot Camp is a two-day workshop Donnelly debuted last week in Seattle in preparation for taking it to other major US cities. Its purpose is to empower event guests to develop, design, and create a one-year promotional calendar to guide and measure the impact of winning social media strategy. The next Seattle event has been scheduled for June 24 and 25.
The Salty Waffle Social Media Hook Up and Match Making Event takes place June 9, 2010. This is a speed dating meet up with passionate social media players who know how to make social media work for just about any business. It is also a fundraiser to benefit two non profit organizations, including EO Accelerator and Ravenstone.
EO Accelerator guides business owners to grow from $250,000 to achieve the $1 million revenue mark, and Ravenstone guides fine artists in the business of successfully running their businesses. A silent auction of fine art will fuel the coffers of both organizations.
When asked about the inspiration behind the Salty Waffle name, Donnelly quipped that she is a life long lover and baker of waffles of every possible variety and flavor. It is actually something she is well known for among her family, friends, and business colleagues.
Donnelly said, "Waffles bring people together, day or night to connect, enjoy, and brainstorm about ideas big and small. Since I live near the beach in West Seattle, there is always a hint of salt in the air. When baking up a sticky brand name to serve as the umbrella for my latest business initiatives, Salty Waffle rose to the top of the list."
About Nicole Donnelly:
Socially active since 1977, Nicole Donnelly connects people through their passions. Selling cookies for profit as a little girl was the first in a long line of passion-filled entrepreneurial ventures. Whether it was riding off a big jump at the X Games as a world-class professional snowboarder or launching, growing, and ultimately selling Babylegs LLC, a multi million dollar international business, to a major hosiery manufacturer, riding with the best has always been priority one.
Today, she is fiercely committed to sharing the powerful lessons learned along her journey to empower aspiring entrepreneurs to travel their own sometimes peculiar, always passionate, and profitable paths to success. What she knows for sure is that there is marketplace magic in finding extraordinary solutions to common problems.
Serving a leadership role for the Entrepreneurs Organization as EO Accelerator chair offers Donnelly the opportunity to guide growth-oriented businesses from $250,000 through the million dollar mark. "I enjoy giving back to a global network of truly outstanding business owners that have been equally generous in providing personal and professional resources to guide my own journey. My daughter and husband inspire me every day to reach higher, think bigger, and to find humor in the chaos of entrepreneurial life."
Donnelly is frequently quoted in Fortune Small Business, Wall Street Journal, Inc. Magazine, and many other trade journals such as Earnshaw's magazine. She is also a resource for news and radio shows, including The Today Show.
About Salty Waffle:
Salty Waffle is the umbrella organization that serves as the hub for all of Nicole Donnelly's business ventures, including her new book Ride Like a Penguin, the new social media measurement application called BigRuby, the Salty Waffle Social Media Hook Up, and Salty Waffle Social Media Boot Camp. To learn more and register for the June 9 Social Media Hook Up and Match Making Event, visit http://www.saltywaffle.com.
# # #