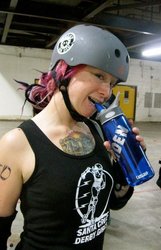 We love our CamelBak water bottles, which, like us, sometimes take quite a beating during a competition. We particularly love seeing the look of envy on the eyes of the opposing teams as we stay hydrated with our very own reusable RockStars-logoed bottles
Petaluma, CA (PRWEB) June 3, 2010
From Los Angeles to Austin, Texas, to Brooklyn, N.Y. -- what started in Northern California as a mini-movement to encourage the use of reusable water bottles, has now gone nationwide.
Three wild and wacky sports teams – the Los Angeles Racing Dragons, the Austin RockStars Handball Club and the Zeus' Beard Brooklyn Kickball Team – have ditched their disposals as the newest members of CamelBak's "Official Water Bottle Of" campaign. The campaign is designed to celebrate the less serious side of sport while underscoring the importance of eliminating plastic water bottle consumption and waste.
Chosen by CamelBak for their unique, if not crazy, take on sporting endeavors, each of the new teams shares a passion for having a good time playing a sport they love while doing something good for the environment.
Meet the newest members:
Los Angeles Racing Dragons: Though still relatively unknown, Dragon Boat racing, which originated in China, is one of the fastest growing international sports. The Los Angeles Racing Dragons, who affectionately refer to themselves as LARD, have put fun and family ahead of competition, and they have a loyal following to show for it.
Austin RockStars Handball Club: Though fun is a big part of the lure, the RockStars, who are members of the Texas Team Handball Club, take the sport of American Speed Handball very seriously. This intense team game is extremely fast and aggressive.
Zeus' Beard: Just the thought of kickball brings back memories of good times in the school playground. Well, these big kids from Brooklyn, who play in the co-ed league, definitely know how to have a good time while working up a big thirst – for water during the game and a keg afterwards.
They join previously announced members, the Santa Cruz Derby Girls and San Francisco Sea Lions Underwater Hockey team, who helped kick off the program in March.
"We love our CamelBak water bottles, which, like us, sometimes take quite a beating during a competition," said Mike Strong of the Austin RockStars. "We particularly love seeing the look of envy on the eyes of the opposing teams as we stay hydrated with our very own reusable RockStars-logoed bottles."
CamelBak, which boasts two decades of hydration innovation and leadership, wants this program to highlight the importance of hydration in all fitness activities. It continues to look to partner with passionate, athletic teams and clubs that break free from conventional fitness activities. Teams and clubs that would like to be considered are encouraged to visit http://www.camelbak.com/owbo and submit an application.
If chosen, CamelBak will provide BPA-free Better Bottles™ and t-shirts with the team logo, as well as promoting the teams on the CamelBak website and its Facebook Fan Page. As the "Official Water Bottle Of," CamelBak will have water-carrying rights at the teams' sanctioned events, so members can enjoy the refreshing health benefits of H2O at every practice and every game.
About CamelBak®
Founded in 1989, CamelBak invented the hands-free hydration category and is the global leader in personal hydration gear. With a mission to continually reinvent and forever change the way people hydrate and perform, CamelBak offers a complete line of technical hydration packs, gear, accessories and aviation / CVC-approved tactical gloves for military forces globally.
With headquarters in Petaluma, CA, a wholly-owned and operated reservoir manufacturing in Mexico and distribution in San Diego, CA, CamelBak designs, tests and engineers its products to perform and last a lifetime. CamelBak is privately held, with products available in 50 countries worldwide. For more information, please visit http://www.camelbak.com or call 800.767.8725.
###