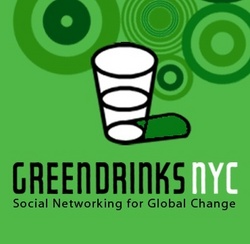 New York, NY (PRWEB) June 4, 2010
Admission: $10 in advance at http://www.brownpapertickets.com/event/113307 or $20 at the door. Sign up at registration desk for a Community Supported Agriculture vegetable box or switch to Pollution-Free (sm) electricity with Green Mountain and admission is free!
Open Bar from Peak Organic Brewery and Sixpoint Craft Ales, tasty treats from Chickpea and local farms. The event also will have innovative "360 networking". Attendees can mix, mingle and relax in the "Steelcase Lounge" while listening to live music performed by Raphael Fusco followed by LA's "green" DJ Journey.
Engage with eco-friendly companies and meet representatives from McGraw-Hill, Foodielink, Green Job Spider, Green Irene,[Brown Paper Tickets, Green Map System, PattyO Designs, Film Biz Recycling, Connect By Hertz, Steelcase, Eco Supply Company, Tri-State Biodiesel, Izze Sambazon, Natural Awakenings, Ava Anderson Non Toxic and more.
This special edition of Green Drinks will be sponsored by Green Mountain Energy Company, the nation's largest competitive retail provider of cleaner energy and carbon offset solutions. The company launched in New York City in August 2009 and offers residents 100% pollution-free electricity products, made from New York wind and water sources.
Like all Green Drinks NYC events, this lively event provides a platform to network with other eco-conscious professionals to develop new ideas, find employment, and discover avenues for sustainable living.
About Green Drinks NYC
Founded in 2002, Green Drinks NYC hosts lively monthly business networking events for New Yorkers to mix and mingle in a friendly and social environment. It was formed to unite the green community of NYC and with over 14,000 members is the largest of over 695 Green Drinks chapters around the world. More information can be found at GreenDrinksNYC.com.
About Green Mountain Energy Company
Green M
###