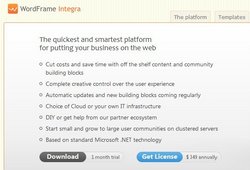 In the collaboration platform space there is no other product like Integra on the market
Colorado Springs, Colorado (PRWEB) June 2, 2010
ITBrix announced today the public alpha of WordFrame Integra, the quickest way to create a collaborative business website. The platform helps customers, partners, web designers, and agencies save money and time by providing standard Templates, or building blocks, for web content, search, support, community blogging, forums and more. They can pick and choose to assemble the functionality they need, and the more adventurous can use Integra's rapid development platform to create new Templates for their own solutions. A free trial license is available and anyone can try out the complete functionality by registering at the WordFrame website: http://wordframe.com
"WordFrame Integra provides a flexible and scalable way of building web solutions for a specific need or market sector, but at a dramatically lower price than existing commercial software" said George Athannassov, CEO of ITBrix. "It has been designed to give customers and developers complete creative control over the user experience. Our Templates are provided as open source at no extra charge, and it is our eventual intention to make available the source of the platform itself." After today's initial release of the platform with Templates for a Company Website, Search Appliance, Community Blogging, Forums, and Support System, ITBrix plans to deliver Personal Portal, Wiki, and Micro-Blogging before the end of Q3 2010, with more to follow.
"WordFrame Integra allows partners and developers to build their own web applications, have them supported with automatic updates, and make them available to all of our customers through the platform's own market place" said Bozhidar Zashev, WordFrame Integra Platform Architect and visionary. "It can handle anything from small sites to very large user communities with millions of users using its server cluster management, and we've made sure administration is a non-technical job"
Expanding on its current list of International partners in the United States, Canada, the Bahamas, Bulgaria, China, Australia and the United Kingdom, ITBrix will provide opportunity for a global ecosystem of partners to develop and sell, implement and integrate customized applications and services to customers around the world.
The platform is based on a common foundation layer which manages all content, reporting, site administration and search with an open application programming interface , upon which ITBrix and Integra partners build applications which automatically work and share data together or connect to legacy systems. It gives companies a faster start compared with all other forms of development and builds a powerful site covering more of the business process as well as interacting with internal and external communities.
Customers can do it themselves, using the platform to either assemble or develop and then support their own website solution, or get help at any stage. The WordFrame Integra partner community and ITBrix's own design and build team can give an 'off the shelf' solution or tailor exactly what is needed.
The WordFrame Integra platform offers complete creative control, with absolutely no restrictions to its 'look and feel'. WordFrame provides a library of ready-made themes which can be used 'as is' or can be adapted to the customer's own branding.
WordFrame Integra has been designed for continuous improvement, with a development roadmap which will deliver new Templates every month. Customers and partners can deploy web solutions on any dedicated server with the appropriate Microsoft technology stack (see below).
"In the collaboration platform space there is no other product like Integra on the market," said David Terrar, ITBrix Executive Director. "You can deploy and manage a website and collaboration solution on a dedicated server which could be in the customer's IT infrastructure, hosted in WordFrame's cloud, from providers like Rackspace or Amazon Web Services, in a private cloud, and even load balanced across multiple servers. The choice is yours."
Affordable Price
Subscription fee is $349 per year per domain deployed for any number of users or any size of community.
Technical Requirements for a WordFrame Integra server
1. Operating system: Windows 2003 Server or higher
2. Web server: IIS 6.0 or higher
3. Database: Microsoft SQL Server 2005 or higher
4. ASP.NET Framework: 3.5 SP1 or higher
5. Browser: IE 7 and above, Firefox 3.5 and above, Safari 4.0 and above
About ITBrix:
ITBrix is the US sales and investment arm of ConsultCommerce, a software development company established and operational since 1995, focusing on enterprise 2.0 solutions for group collaboration and web content management. Its WordFrame platform covers blogging, wikis, RSS feed aggregation, document management and social networking, using standard Microsoft technologies. ITBrix is headquartered in Colorado, USA, with offices in the UK and a substantial development and support centre in Bulgaria. As well as WordFrame, the team has extensive web development experience including content management systems (CMS), internal collaboration software, financial applications, online mail management and forum software applications currently used by over 15,000 customers.
Contact points:
http://wordframe.com, Tel: +1 719 332 5062 or +44 7715 159423, Fax: +1 719 597 2873
###