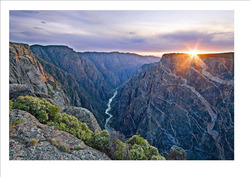 The beautiful thing about astronomy is that it is a segue to nearly every discipline you can imagine – literature, physics, science and the arts all have roots in astronomy
Montrose, Colo. (Vocus) June 3, 2010
There is a lot of talk about Hollywood stars these days, but this summer the Black Canyon of the Gunnison National Park, the Black Canyon Astronomical Society, and the Montrose Association of Commerce and Tourism invite visitors to tune in to luminaries of another nature – Mother Nature's that is. The Montrose area, which is situated in southwest Colorado's wide open spaces, offers numerous opportunities to turn heavenward and unleash the Galileo inside.
According to John Pool, Vice-President of the Black Canyon Astronomical Society, the best time of the year to stargaze is late spring to early fall because of the milder temperatures that exist during this timeframe. During the summer it begins to get dark by 9 p.m., allowing enchanting views of planets, galaxies, meteors and star clusters against a velvet black sky.
The Black Canyon, located just outside of Montrose, is considered a "dark sky site" because there is very little stray light or light pollution to impair star viewing. This summer the Black Canyon Astronomical Society and the Black Canyon of the Gunnison National Park are teaming up for free "star parties" at the park amphitheatre and campground. Join in the fun on June 9, 16 and 30; July 7, 14 and 28; and August 4, 11, 18 and 25 to get a celestial sampling, Montrose style. Parking at the amphitheatre is limited so participants are encouraged to carpool to the park.
Star parties typically start around 9 p.m. They include a short interpretive program by a national park service expert, constellation tours, telescopic viewing of star clusters and galaxies, and plenty of time for questions. The programs are a great way to learn about constellations like the Big Dipper, the Swan, and Leo the Lion, which participants can rediscover when they return home by simply gazing skyward.
"The beautiful thing about astronomy is that it is a segue to nearly every discipline you can imagine – literature, physics, science and the arts all have roots in astronomy," says Pool. "No one owns the sky. No matter who you are or what you do, the wonder that astronomy and stargazing impart is accessible to everyone."
The rangers at the Black Canyon of the Gunnison National Park are also out during the day with their solar scope designed to look at the sun. Look for them at the South Rim Visitor Center to take part in this program.
Stargazing Tips
Keep these tips in mind when attending a star party or stargazing on your own to ensure everyone has a "glowing" good time.
1. Even during the summer months it can get very chilly at night, especially since stargazing doesn't require one to move around much. Be prepared by wearing warm clothes or bringing along layers to add as the temperatures drop. A thermos of warm drinks can also help ward off the chilly night air.
2. Avoid becoming a mosquito's main course by using insect repellent or wearing long sleeves and long pants.
3. The best stargazing sites are natural and undeveloped, so bring a folding chair or something to sit on for maximum comfort.
4. It usually takes about 20 minutes for one's eyes to adjust to their night vision, which requires complete darkness to fully maintain. Keep flashlights pointed to the ground at all times, never shine the light in other people's eyes, and keep the lights off within the observation area.
About Black Canyon of the Gunnison National Park (http://www.nps.gov/blca)
The Black Canyon of the Gunnison National park is located 250 miles southwest of Denver. The south Rim is 15 miles east of Montrose and the North Rim is 11 miles south of Crawford. It was proclaimed a national monument in 1933 and was designated a national park through a congressional bill and a presidential signature in 1999. The Black Canyon is aptly named – it is so deep, sheer and narrow that very little sunlight reaches the canyon floor. Activities in Black Canyon National Park include fishing, hiking, rock climbing, horseback riding, nature walks and camping in the summer and cross-country skiing, snowshoeing and backcountry camping in the winter.
About Montrose (http://www.visitmontrose.com)
Montrose is a uniquely-authentic town that has carved out a place for itself in the landscape and culture of Colorado. A multi-faceted community, Montrose serves up layer upon layer of discoveries, each more unique than the last. Whether you are looking for adventure, agritourism, history, culture, shopping, fine dining or anything in between, Montrose has a little something for everyone.
Contacts:
Gaylene Ore, Ore Communications, 970.887.2536, gaylene(at)orecommunications(dot)com
Jenni Sopsic, Montrose Association of Commerce and Tourism, 970.708.1182, jenni(at)montroseact(dot)com
Paul Zaenger, Black Canyon National Park, 970.249.1914 x429, paul_zaenger(at)nps(dot)gov.
# # #