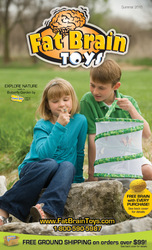 We've been building the infrastructure for this catalog for nearly eight years...
Elkhorn, NE (PRWEB) June 4, 2010
Despite a seemingly counterintuitive approach, entering the direct mail channel is a natural "next step" for the leading online specialty toy retailer, Fat Brain Toys. Releasing its first direct mail catalog, the company is leveraging its unique assets to a broader audience that is eager to find quality toys and games. Completing a powerful trifecta, the company now offers three distinct sales channels - online retail, "brick & mortar" retail store, and now a direct mail toy catalog.
Fat Brain Toy's founder, Mark Carson explains, "While this is a market we've been analyzing for a while, it's our customers who have really pushed us in this direction. Despite the digital world we live in, catalogs still serve as a vital conduit for reaching the masses."
The inaugural issue, set to hit mailboxes starting the week of June 7th, will provide a small taste of the products the company has to offer. Featuring over 150 superior products from nearly 40 manufacturers, the catalog follows the same formula for success utilized on their website: distinctive products, competitive prices and unbeatable customer service. While the catalog is reaching consumers through a new medium, customers will be directed to the award-winning FatBrainToys.com website that features over 6,000 unique toys, games and gifts for all ages and interests. A larger catalog with greater circulation is already in the works for Holiday 2010.
In addition to the company's focus on offering the most meaningful specialty toys for child development and learning, Fat Brain Toys takes great pride in its customer relationships. Unlike most rapidly growing enterprises, Fat Brain Toys maintains all of its services in-house to control every aspect of the customer experience. From the design and technology to the call center and fulfillment operation, every function is maintained internally to provide rapid response and truly personalized service.
"While producing a physical catalog may be new for us, we've been building the infrastructure for nearly eight years," elaborates Carson. "We couldn't be more excited to acquaint millions of new prospective customers with the Fat Brain Toys experience."
A complimentary copy of the Fat Brain Toys catalog can be requested by visiting:
http://www.fatbraintoys.com/catalog
About Fat Brain Toys
Begun as a literal garage startup in 2002, husband and wife team Mark & Karen Carson have grown their company into one of the largest independent retailers of specialty toys in the country. Recognized as one of the fastest growing e-retailers by Internet Retailer magazine, Fat Brain Toys credits their rapid growth to offering quality toys coupled with truly remarkable customer service. You can see their complete selection of specialty toys at http://www.fatbraintoys.com.
###