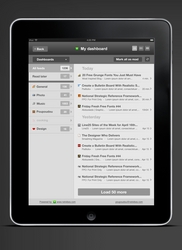 "Netvibes on iPad finally gives users a truly rich RSS reader experience for the iPad, with real live feed syncing between articles read on the desktop and iPad
San Francisco, CA (PRWEB) June 3, 2010
Now, the highly popular Apple iPad is on sale across Europe, Japan and Australia. Noticeably absent, however, is the lack of a built-in RSS reader to meet the needs of mobile consumers who want to keep track of their favorite blogs, websites and news on the go, while keeping in sync with their desktop RSS reader. Netvibes (http://www.netvibes.com), the personal dashboard publishing platform for the Web, now introduces Netvibes on iPad, the first fully featured RSS reader for the Apple iPad. Netvibes on iPad delivers the complete Netvibes desktop experience to the iPad, including a dual-view RSS and widget reader, live read/unread article syncing and Twitter--all in one mobile Web experience for the iPad.
"The biggest thing missing from the Apple iPad is a true, fully featured RSS reader. Until now, reading RSS on the iPad has been a pain point for many users who expect the same enjoyable experience they have on their desktop. Paid apps, installation hassles and feed setup, boring text only views, lack of syncing with online readers--there must be a better way," said Freddy Mini, CEO Netvibes. "Netvibes on iPad finally gives users a truly rich RSS reader experience for the iPad, with real live feed syncing between articles read on the desktop and iPad, quick access to Twitter and thousands of useful widget applications--all for free and available instantly without any installation required."
Available today, the alpha release of Netvibes on iPad is now available free for all Netvibes users at: http://ipad.netvibes.com. (No download is required, but since Netvibes for iPad syncs with Netvibes online reader application, a Netvibes.com account is recommended. To join Netvibes and instantly get your own dashboard and feed reader, visit: http://www.netvibes.com)
Netvibes on iPad is different from all other RSS readers on the iPad because it is synced online to Netvibes.com, the Web's most awarded personalized dashboard and RSS smart reader. This means that users can access the same experience both on their desktop (at home or at work), and their iPad. RSS articles that are read on a user's desktop from Netvibes.com, will also be synced and marked as read on their iPad.
This also means that users can access not just RSS feeds, but also widget applications from their Netvibes dashboard as well. After checking up on the latest news, a user can quickly check what their friends are talking about on Twitter, update their own Twitter or Facebook status, check stocks or weather--and much more all within Netvibes for iPad without the hassle of installing many different apps or switching between them. It delivers everything people need on the go on the iPad--news, blogs, Twitter, widgets--all in one place, all in one app.
Currently in alpha release, Netvibes on iPad will soon offer many more features designed to deliver the entire award-winning Netvibes.com experience to the iPad.
About Netvibes (http://business.netvibes.com)
Founded in 2005, Netvibes pioneered the first personal dashboard publishing platform for the real-time Web. For consumers, Netvibes.com is the most awarded dashboard engine that helps millions of people around the world instantly dashboard everything that matters to them most. For agencies and publishers, Netvibes' universal widget technology (UWA), widget distribution services and Premium Dashboards help rapidly deliver brand observation rooms and user-personalized marketing campaigns. For companies, Netvibes Enterprise delivers secure, scalable personal workspaces, portals and industry dashboards.
Today, Netvibes powers personalization for more than 1,500+ of the world's leading brands, interactive agencies, government organizations, non-profits and enterprises--serving more than half a billion widgets every month. Netvibes has offices in Paris, London and San Francisco.
###