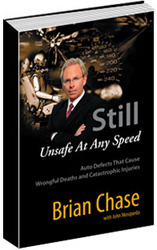 By knowingly exposing the public to fuel-fed fires that often result in horrifically painful burn injuries, the defendants' actions are absolutely despicable in this case
Los Angeles, CA (Vocus) June 3, 2010
The California auto defects lawyers of BISNAR | CHASE (http://www.BestAttorney.com ) have filed a product liability lawsuit against Chrysler Group, LLC and Rusnak Corporation, located in Pasadena, California. According to the lawsuit, members of the Mares family, including Stephen Mares and his two children, Seth and Sophia, sustained severe and permanently disfiguring burns as a result of an October 2009 incident in which a defective 1998 Dodge Caravan, manufactured and sold by the defendants, unexpectedly caught on fire. The lawsuit was brought against the defendants by Stephen and his wife, Hethalein, who was also a passenger in the vehicle at the time, directly and on behalf of their two minor children, Seth and Sophia Mares.
Allegedly Defective 1998 Dodge Caravan Bursts into Flames
According to the lawsuit, the Mares family was traveling on Interstate 5 in Orange County, California, near Culver Drive in Irvine on October 18, 2009. At the time of the incident, Stephen Mares was driving the family vehicle, a 1998 Dodge Caravan, when it suddenly experienced left-rear tire failure, forcing him to make an emergency stop on the right hand shoulder of the road. Due to an alleged fuel system defect, a leakage of gasoline near the tire blowout suddenly ignited, engulfing the Caravan in flames. As a result, Stephen and his two children, Seth and Sophia, sustained severe and permanently disfiguring burn injuries. Stephen's wife, Hethalein, and his father, Stephen Mares Sr., managed to escape personal injury.
Defective Fuel System in Dodge Caravan May Have Caused Catastrophic Burn Injuries
The suit alleges that the 1998 Dodge Caravan Stephen Mares was driving at the time of the incident was defective in its fuel system design and that these defects contributed significantly to the sudden fire and the catastrophic burn injuries sustained by members of the Mares family. According to court documents, the design of the Caravan's fuel tank and fuel filler neck assembly was unsafe, allowing for dangerous fuel leakage. What's more, the vehicle's fuel filler neck was in a dangerous location, positioned through the rear wheel well and attached to the rear quarter panel, allowing for tire tread separation particles and other debris to come in contact with it. Finally, the Caravan lacked a fuel tank check valve, which would have helped prevent fuel from escaping in the event of a compromised filler neck.
Chrysler May Have Been Aware of Dodge Caravan Defects, Ignored Safer Design Alternatives
The suit alleges Chrysler was fully aware of inherent defects in the design and manufacturing of its Dodge Caravan's fuel system based on official action by the National Highway Traffic Safety Administration (NHTSA) prior to and during the time the vehicle was manufactured. As a result, these defects caused increased risk of fuel leaks and fuel-fed fires, exposing occupants to unreasonably dangerous conditions. The lawsuit further alleges that, in addition to its knowledge of these defects, Chrysler chose to forego safer alternative fuel system designs in an effort to save money, and then failed to warn the public of these dangers.
"By knowingly exposing the public to fuel-fed fires that often result in horrifically painful burn injuries, the defendants' actions are absolutely despicable in this case," said Brian Chase, a senior partner with the BISNAR | CHASE Los Angeles Personal Injury Lawyers. "What's even more despicable is the fact that safer design alternatives were available at the time the Dodge Caravan was manufactured and that, after being made aware of increased fire dangers in its vehicles, Chrysler did nothing to warn the public."
The action seeks economic damages for serious and permanent personal injury, severe emotional distress, loss of consortium, medical expenses and loss of past and future earnings and earning capacity. The lawsuit is pending in the Superior Court of California, County of Los Angeles, case #6C044931.
About BISNAR | CHASE
The BISNAR | CHASE Newport Beach Personal Injury Attorneys represent people who have been very seriously injured or lost a family member due to an accident, defective product or negligence throughout California. The auto defects law firm has won a wide variety of auto defect cases against most of the major auto manufacturers, including Ford, General Motors, Toyota, Nissan and Chrysler. Get a complimentary copy of Mr. Chase's auto defect book, Still Unsafe at Any Speed: Auto Defects that Cause Wrongful Deaths and Catastrophic Injuries. For more information, visit their blog at http://www.ProductDefectNewsandAdviceBlog.com.
# # #