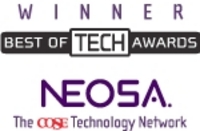 As we continue to enhance Mobile Control, this award helps validate the value that SageQuest brings to our customers and their success.
Cleveland, Ohio (Vocus) June 3, 2010
SageQuest, LLC was recognized by the Northeast Ohio Software Association (NEOSA) for the Best Software Product at the annual Best of Tech Awards on May 19th.
Alongside other outstanding tech companies in the region, SageQuest was presented with the award for the latest version of its automatic vehicle location (AVL) solution, Mobile Control. "We launched the Best of Tech Awards in 2007 as a way to recognize the achievement of truly outstanding companies and products from Northeast Ohio," says Brad Nellis, Executive Director of NEOSA. "The Best Software Product category is one of the most competitive each year with many great nominations. The award recognizes companies who have developed an outstanding product, have established significant market traction and who have built a sustaining business. SageQuest, with Mobile Control, represents all of those attributes and more; we're proud to recognize this company and proud they're located in Northeast Ohio."
As a leader in GPS vehicle tracking, SageQuest provides proven management solutions that improve the efficiency and effectiveness of mobile workforces throughout North America. Mobile Control is a software-as-a-service GPS/AVL solution offering real-time insight into technician and vehicle activity. This insight provides actionable decision-making intelligence helping dispatchers, supervisors, and executives reduce costs and increase productivity. Since its release, Mobile Control has received high accolades from customers and industry leaders, along with this esteemed recognition from NEOSA.
"We are honored to have Mobile Control recognized as the Best Software Product," said Dennis Abrahams, President and CEO of SageQuest. "As we continue to enhance Mobile Control, this award helps validate the value that SageQuest brings to our customers and their success."
###