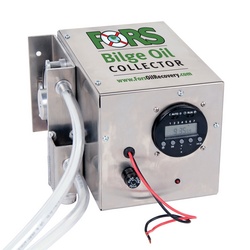 "This is the best system we've seen for preventing accidental oil spills from dirty bilge water"
Edmonds, WA (PRWEB) June 4, 2010
A 'clever' new device that proponents say could keep millions of gallons of oil out of the world's oceans has attracted the attention of at least one marine insurance broker in the Pacific Northwest.
Erven Bong & Associates (EBA), which arranges insurance for commercial fishing boats in Washington, Oregon, Alaska and California, is offering an unprecedented rebate of up to $800 over four years to clients who install the FORS Bilge Oil Collector. The innovative device, which was unveiled at last year's Pacific Marine Expo in Seattle, has been hailed as the first truly eco-friendly solution to the problem of bilge oil pollution.
"This is the best system we've seen so far for preventing accidental oil spills from dirty bilge water," says EBA President Eric Erven. "So we're giving clients that meet certain criteria a $200 rebate every year for four years when they install one, which effectively pays for the Collector. I really don't see the down side."
Bilge oil is generally a mixture of heavy fuel and lubricants that leaks out of a ship's inboard engine and collects in the bilge. There, it mixes with run-off water that is often pumped overboard by means of an automatic bilge pump.
"People always think, 'I'm not going to have a spill,'" says Erven. "But that's not the reality. We've seen some really nasty situations when only three or four gallons get pumped out, and that could be just one vessel with a dirty bilge. That's why every boat should have something to keep its bilge clean."
Traditional methods for removing oil from bilge water, such as absorbent pads and special filters, tend to just transfer the oil to a landfill. The FORS Bilge Oil Collector is the first system that actually collects oil for recycling as a valuable resource. The device can run on solar power, is programmable to automatically remove up to two gallons of oil a day and requires no maintenance other than periodically emptying the reservoir.
"It's so simple it's almost painfully clever," says Erven. "If it were overly sophisticated it likely wouldn't work for very long in a harsh environment like Alaska, but this is a simple system that really works well."
Bob Elliott, vice-president of FORS (which stands for Fast Oil Recovery Systems), estimates more than 3 million gallons of oil would be kept out of the world's oceans and landfills if every boat in North America were equipped with the device.
"Obviously I think that EBA's rebate program is great, both for us and for the environment," says Elliott. "Even without the rebates our product has been paying for itself in about six months, so it's a great extra incentive for fishermen. It's a big step toward protecting our fragile marine ecosystems."
To learn more about the FORS Bilge Oil Collector, visit http://www.forsoilrecovery.com. For more information on Erven Bong & Associates' rebate program, call 1-800-399-4872.
###