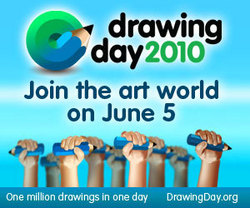 Can artists around the world rally to create 1 million drawings in one day?
Seattle, WA (PRWEB) June 4, 2010
June 5, 2010 the world stops to remember that joy the first time you picked up a pencil and created a piece of art. A team of artists at DrawingDay.org are calling on other artists around the world to use social networking websites like Facebook, Twitter and YouTube to remind everyone of the power of drawing. The goal is 1 million drawings.
One million drawings in one day may seem like a stretch to some, but take a moment to think how obtainable this goal is. Facebook currently has in excess of 350 million active users on global basis and more than 35m Facebook users update their status each day. Twitter now has around 15m active users on a regular basis. YouTube viewers watched more than 93 videos each month in January 2010. A small percentage of vocal artists from each of these social networks may very well reach one million drawings in no time.
Artists are extremely passionate people and love to get noticed but they need to get creative to bring attention to their art. Gone are the days of simply creating an online portfolio and hoping it will launch your art career. Social networking has become the tool of choice to showcase art online. Websites such as Facebook, YouTube™, Flickr™, deviantART and RateMyDrawings.com help bring artists together, but is it enough? Founder of Drawing Day, Mick Gow who is an artists himself thinks more can be done to encourage this new way of showcasing art, so Drawing Day was born.
It is completely free and simple to get involved. Drawings can be created via any graphics software or by simply scanning drawings created on paper. Participants then submit these drawings to any of several online art communities or social networking websites listed on the Drawing Day website. For the more adventurous or tech-savvy artists, there will be various websites listed that will be hosting online drawing events that allow artists to create drawings directly from their web browser using a mouse or drawing tablet. Some artists are even recording videos of themselves drawing and posting them on YouTube. Participants are then encouraged to spread the word by sharing these drawings with their friends.
If you'd like more information about Drawing Day or want to learn more about getting your online art community or social networking website involved, visit http://www.drawingday.org.
###