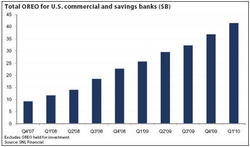 Charlottesville, Va. (Vocus) June 4, 2010
According to a recent analysis from SNL Financial, foreclosed property held by U.S. banks increased to $41.5 billion as of the end of first-quarter 2010 from $36.9 billion at year-end 2009, and $11.7 billion in the first quarter of 2008.
SNL data shows that other real estate owned, or OREO, represented 0.3% of commercial and savings banks' assets in the first quarter, up from 0.1% in the comparable period of 2008.
SNL analyst Andrew Schukman explains, "OREO is held on commercial banks and savings banks' balance sheets when the companies repossess a property from a borrower, usually through the process of foreclosure. During the first quarter, our data shows that one-to-four family properties in the process of foreclosure by U.S. banks increased 9.1% to $78.6 billion, so OREO as a percentage of banks' assets will likely continue to grow as additional properties complete foreclosure."
While properties continue to grow on banks' balance sheets, the type of real estate being reclaimed has changed. According to SNL data, construction and land development properties represented nearly 40% of total OREO in the U.S. as of March 31, up from 24.3% in the first quarter of 2008. Meanwhile, one-to-four family OREO fell to 28.4% of total OREO as of March 31, compared to 44.5% in the first quarter of 2008. Other types of OREO include commercial real estate, which made up 18% of OREO in the first quarter; foreclosed GNMA property, which comprised 6.4%; multifamily, making up 6.1%; and farmland and foreign office, each comprising less than 1.0%.
This data is available as part of the SNL Information Service. To find out more, contact sales(at)snl(dot)com or 866.296.3743.
About SNL Financial
SNL collects, standardizes and disseminates all relevant corporate, financial, market and M&A data – plus news and analysis – on more than 3,300 public companies and 50,000 private companies in these industries: Banking, Financial Services, Insurance, Real Estate, Energy and Media & Communications. For more information, visit http://www.SNL.com.
Visit the SNL Press Room to learn more about resources available to members of the media.
SNL Contact
Monica Jenkins
Press Relations Manager
+1.434.951.6951
mjenkins(at)snl(dot)com
SNL Financial
One SNL Plaza
Charlottesville, VA 22902
+1.434.977.1600
Other office locations:
Ahmedabad, India; Arlington, Va.; Boston, Mass.; Boulder, Colo.; Islamabad, Pakistan; Jersey City, N.J.; London; Monterey, Calif.; New York
###