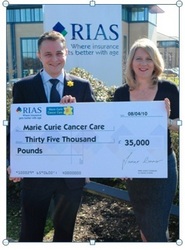 "We thoroughly enjoyed working with RIAS. The excitement and sense of community that their employees gave towards fundraising was fantastic."
United Kingdom (PRWEB) June 4, 2010
Employees from specialist insurance provider RIAS have donated £35,000 to Marie Curie Cancer Care, following their successful employee-voted Charity of the Year programme.
The RIAS 2009 Employee Charity of the Year, Marie Curie Cancer Care, provides free care for people with terminal cancer and other illnesses, giving them the choice of dying in their place of choice, at home or in a hospice. The £35,000 raised will enable Marie Curie Nurses to provide 1750 hours of care to terminally ill people in their own homes, funding overnight care for 190 patients.
Adventurous employees from Bournemouth and Belfast fundraised together by taking part in sky dives, dress down and fancy dress days, half marathons, the London to Paris bike ride, the three peaks challenge, an abseil event and a driving challenge. Even RIAS' call centre was used at Christmas, with a number of employees donating their time to make outbound calls to over 150 UK choirs, encouraging them to take part in the 'Sing Out for Marie Curie Cancer Care' initiative.
Janet Connor, Managing Director at RIAS commented: "We had a great partnership with Marie Curie Cancer Care during 2009 and we are thrilled to beat our £25,000 target by collectively donating £35,000 to help cancer patients within our community. Our employees really got into the fundraising spirit in a difficult economic climate, donating not only their money, but also their time towards a host of challenges throughout the year."
Michael Straney, Corporate Development Executive at Marie Curie Cancer Care commented:
"We thoroughly enjoyed working with RIAS. The excitement and sense of community that their employees gave towards fundraising was fantastic. 70% of the charity's income comes from the generous support of thousands of individuals, membership organisations and businesses nationwide. On behalf of Marie Curie Cancer Care and the people we help, I'd like to thank all at RIAS for their excellent contribution to our charity."
###