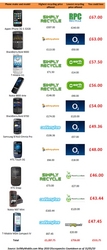 (PRWeb UK) June 7, 2010
BlackBerry smartphone maker Research In Motion is finally catching up with Nokia in the UK smartphone market, as its BlackBerry Curve 8900 became the UK's fifth most recycled handset for the first time with a potential value of £81.
In the latest figures from mobile phone recycling price comparison site SellMyMobile.com's Recycling Value Countdown for May 2010, the BlackBerry Curve enters the UK's top five most recycled handsets just behind Nokia's 5800 XpressMusic, N95 and N97 handsets, and Apple's 3G iPhone (8GB) respectively. In addition, BlackBerry featured two handsets in May's top 10 discrepancies countdown, with the BlackBerry Bold 9000 and 9700 scoring price differences of up to £63 and £54 each across the UK's 23 most popular mobile phone recyclers.
This month's update has also revealed that the Nokia 5800 XpressMusic remains the most popular recycled handset in the country, with a potential value of £77.43. The average value of mobile phones sold online in the UK in May also reached £56.55.
May's Countdown from SellMyMobile.com has found that owners of the top 10 mobiles with the biggest recycling discrepancies could be losing out on an extra £531.75 for their old devices by not shopping around. Simply Recycle, one of four new recycling services added to SellMyMobile.com's comparison search in May 2010, proved to be the most generous of all recyclers, offering four of the best prices in the top 10 discrepancies.
The biggest discrepancies for consumers looking to sell mobiles in May 2010 were:
###