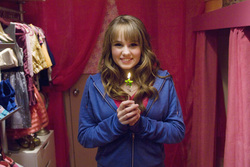 Los Angeles, CA (PRWEB) June 3, 2010
MarVista Entertainment, a leading producer and distributor of family entertainment programming, is pleased to work with Borders® to launch an exclusive line of consumer products supporting the world premiere of "16 Wishes." The movie stars Debby Ryan ("The Suite Life on Deck") and Jean-Luc Bilodeau ("Kyle XY") and premieres FRIDAY, JUNE 25 (8:00 p.m., ET/PT) on Disney Channel. The announcement was made today by Michael D. Jacobs, President, MarVista Entertainment.
"16 Wishes" follows Abby Jensen (played by Ryan), a teenager who can't wait to grow up, and when she is handed the chance to make all her wishes come true, quickly learns the importance of being careful what you wish for.
Borders will be the exclusive retailer for all "16 Wishes" merchandise, available in store beginning June 25th. A variety of products will be available nationally in all Borders and Waldenbooks retail locations and online at Borders.com. Borders will dedicate feature space via promotional end caps and/or table programs to merchandise the 13 item collection. Additionally 200 stores will feature video monitors running the movie trailer and music video through the end of July.
MarVista and its agent, Art & Science, have signed agreements with several leading manufacturers for the launch merchandise. Products include the "16 Wishes" soundtrack, featuring Debby Ryan singing "A Wish Comes True Everyday," and together with brother Chase Ryan, the single "Open Eyes," which they co-wrote. The soundtrack will also be available on iTunes.com and is distributed under the MarVista Entertainment label by Brody Distribution Group (BDG). BDG is distributed by RED Distribution, LLC (a division of Sony Music Entertainment). Other products include T-Shirts from Now & Zen Productions; calendars from Harry N. Abrams; necklaces and keychains from Gloria Duchin; magnetic and regular bookmarks, journals and a 110-page junior novelization from Ink Media; a light-up journal from Spark Studios; posters from Aquarius, and bracelets from Jac Vanek, with a percentage of proceeds going to RockCANRoll, a hunger relief organization organizing food donations through concerts, school events and corporations.
The "16 Wishes" initiative at Borders will kick off with an in-store appearance featuring Debby Ryan and Jean-Luc Bilodeau on June 19th at the Borders location in Century City, Los Angeles, to support the launch and sign memorabilia. Select "16 Wishes" items will be available in store for the event.
MarVista has also signed a strategic in-store and on-line promotional partnership with Rita's Italian Ice, the largest Italian ice concept in the nation, operating over 550 stores in 18 states, to promote the movie. Beginning on June 15th, "16 Wishes" movie flyers will be posted in all stores; and the Company will support the launch with an email campaign to its "Birthday Club" members, together with a Facebook and Twitter campaign.
"We are excited to have cemented our retail partnership with Borders, working together with gifted marketer Jodi Jackson to introduce the magic of '16 Wishes' to teens and tweens across the country," commented Jacobs. "This relationship, together with our extensive promotional partnership with Rita's Italian Ice and combined marketing efforts, furthers our goals to ensure an enthusiastic following for "16 Wishes" and the talented cast, including Debby Ryan and Jean-Luc Bilodeau."
"We're pleased to be the exclusive retailer for the '16 Wishes' merchandise," said Gary Bale, senior VP of Non-Book for Borders. "Teens and tweens look to Borders to provide a variety of entertainment products, whether books, music, movies and other merchandise that speaks to their interests. The '16 Wishes' merchandise, which only we offer, fits within our mission to be a place for entertainment and inspiration."
For more information about "16 Wishes" go to Debby Ryan's character's blog http://16WishesTheMovie.com; YouTube Channel http://youtube.com/16wishesthemovie; Twitter account @16Wishes (http:twitter.com/16wishes); and the "16 Wishes" Facebook page.
Stone Newman of Art & Science is responsible for securing the retail partnership with Borders Group and licensing partners; and Stephanie Silverman Houser is responsible for securing the promotional partnership with Rita's Italian Ice as well as overseeing the marketing for the film including the creative online marketing and social media campaign.
About "16 Wishes"
Eager to grow up, Abby has been planning for her Sweet 16th birthday ever since she was a little girl. When the big day finally arrives, she excitedly adds her sixteenth and final wish to the secret wish list she's been keeping. Then begins the first of many unusual occurrences that day each including visits from a peculiar woman, Celeste, who first appears to deliver a mysterious box of 16 birthday candles.
Her birthday gets a whole lot brighter when Abby realizes that the candles correspond to her 16 wishes and that they're each coming true -- she lands the attention of her crush, she gets back at her lifelong nemesis Krista Cook and is suddenly fashionable, athletic and popular. But when one wish goes horribly awry, it changes everything, even her relationship with best friend Jay, leading Abby to finally understand that being a kid isn't so bad.
The movie stars Debby Ryan as Abby Jensen; Jean-Luc Bilodeau as Jay Kepler; Anna Mae Routledge ("Harper's Island") as Celeste; and Karissa Tynes ("Aliens in America") as Krista Cook. Produced by MarVista Entertainment, "16 Wishes" was written by Annie DeYoung (Disney Channel's "StarStruck," "Princess Protection Program") and was directed by Peter DeLuise ("Stargate SG-1"). MarVista Entertainment's Michael D. Jacobs ("Special Delivery") and Fernando Szew ("Deadly Honeymoon") served as Executive Producers along with co-production partner Ron French ("Battlestar Galactica") from Unity Pictures Group. MarVista's Robyn Snyder ("I Me Wed") serves as Producer.
About MarVista Entertainment:
MarVista Entertainment (http://www.marvista.net), a leading Los Angeles-based independent producer-distributor of features, children's and family programming, globally licenses television series, movies, documentaries and direct-to-DVD programming to multiple platforms throughout the world. Founded in September 2003 by Joseph Szew, now COO and CFO; CEO Fernando Szew; President Michael D. Jacobs; and Executive VP George Port, MarVista's library features more than 2,000 hours of programming. The company has become a leader in providing television movies to major cable networks in the U.S., including over 20 telefilms for Lifetime, Hallmark Channel, NBC Universal and ABC Family that generated extensive global terrestrial and pay television sales. Earlier this year, MarVista formed a production and distribution alliance with SNAP TV in Argentina.
About Borders Group, Inc.:
Headquartered in Ann Arbor, Mich., through its subsidiaries, Borders Group, Inc. (NYSE: BGP) is a leading specialty retailer of books as well as other educational and entertainment items. The company employs approximately 19,500 throughout the U.S., primarily in its Borders(R) and Waldenbooks(R) stores. Online shopping is offered through borders.com. Find author interviews and vibrant discussions of the products we and our customers are passionate about online at facebook.com/borders, twitter.com/borders and youtube.com/bordersmedia. For more information about the company, visit borders.com/media.
About Rita's Franchise Company:
Rita's Franchise Company, headquartered in Trevose, PA, is the largest Italian Ice concept in the nation, currently operating in 18 states with more than 550 stores. Rita's brand promise is Ice, Custard and Happiness. The chain offers a variety of frozen treats including its famous Italian Ice, Old Fashioned Frozen Custard, and layered Gelati, healthy Light Line™ treat options as well as its signature Misto® and Blendini™ creations. Rita's was named one of the Top 25 Franchise High Performers by the Wall Street Journal's 'Startup Journal.' In a 2009 Zagat survey of over 6,000 fast-food fans, Rita's was ranked #2 in the Top Ice Cream/Custard category. The World Needs More Rita's!
--ends--
For further information please contact:
Michelle Orsi/Carol Holdsworth
Three.Sixty Marketing & Communications
michelle(at)360-comm(dot)com/carol(at)360-comm(dot)com
310.418.6430/805.252.1848
http://www.360-comm.com
###