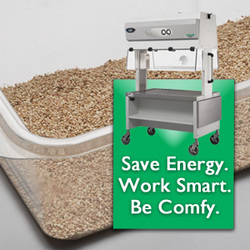 Minneapolis, MN (PRWEB) June 10, 2010
The all-new Allergard 619 Animal Transfer Station (ATS) from NuAire is ergonomic, portable, and energy efficient. Lightweight design and a caster base allow the Allergard 619 animal transfer station to go anywhere in the lab.
The Allergard 619 ATS is the only animal transfer station to allow 10" legroom and 12" adjustable work surface height. NuAire even designed the Allergard 619 ATS to work the way you do. A prop-up work tray, spill proof drip tray, built-in magnifying glass, touch-free hand sanitizer and feed hoppers are just a few options the Allergard 619 Animal Transfer Station has to offer.
NuAire has even extended the Allergard 619's HEPA filter life with noise-reducing energy efficient EC impellers. Laboratory equipment certifiers will also appreciate the Allergard's all-new service-friendly control panel.
With customizable options, ergonomic design, and energy efficient components, the Allergard 619 Animal Transfer station is an excellent fit in any animal research laboratory.
Visit http://www.nuaire.com/allergard/619/ to learn more, or to find a local NuAire authorized animal transfer station sales representative.
NuAire, Inc.
2100 Fernbrook Lane
Plymouth, MN 55447
Toll Free: 1.800.328.3352
Phone: 763.553.1270
Fax: 763.553.0459
E-mail: nuaire(at)nuaire(dot)com
Website: http://www.nuaire.com/allergard/619/
###