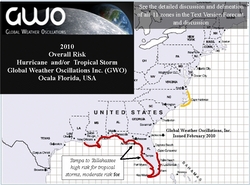 The stage is set for a much more active hurricane season in 2010
Ocala, FL (PRWEB) June 3, 2010
Global Weather Oscillations Inc. (GWO), a leading climate cycle forecast company, has issued their hurricane and tropical storm forecast for the 2010 season. Chief climate forecaster David Dilley in Ocala, Florida, says the 2010 season will be an about face from 2009 which saw the development of tropical storm and hurricane activity suppressed by the El Niño. No hurricanes affected the Gulf and Atlantic Coasts of the United States in 2009.
Dilley says, "The stage is set for a much more active hurricane season in 2010," with GWO red flagging extreme south Florida from near Miami and Naples - southward through the Keys. This area has a risk for multiple landfalls and a major category 3 or greater hurricane. GWO's hurricane model is tracking 5 similar climate cycles that have occurred during the past 100 years, with 4 of 5 cycles producing major hurricanes in the Keys or extreme south Florida.
A second area red flagged by GWO is the upper Gulf States from Central Louisiana eastward into the western Panhandle of Florida. Other hurricanes and tropical storms will track around the Bermuda high with some skirting eastern North Carolina before heading out to sea. Additional information is available on GWO's hurricane web site http://www.hurricaneriskpredictions.com
The stage is set this summer; the tropical Atlantic Ocean is warmer than normal, the El Niño is gone, and the upper atmosphere wind shear that suppressed development of storms last year is already noticeably less. Meanwhile, the Bermuda High Pressure Center that changes position and strength from one season to the next, is now settling into its location for this summer, which will influence the ultimate path of storms during the season.
GWO's prediction model is based on a concept of climate cycles, with these cycles built around a Primary Forcing Mechanism (PFM) that ultimately controls these climate cycles. The PFM plays a significant role in controlling the position of the Bermuda High pressure center from one year to the next.
GWO is in its fifth year of issuing landfall forecasts for hurricane and tropical storms for 11 coastal zones along the Atlantic and Gulf coasts. GWO clients receive proven accurate yearly forecasts with outlooks for an additional 3 years. Prior to the 2008 season, Dilley red flagged western Louisiana and Texas, and there were 5 hurricane and tropical storm landfalls in that region. A full year prior to the 2009 hurricane season, Dilley predicted an El Niño would drastically suppress the hurricane activity during the 2009 season, and that there would be no hurricane landfalls along the U.S. coast. In 2009 there were no hurricane landfalls.
David Dilley is a meteorologist, climate researcher and forecaster with Global Weather Oscillations Inc. (GWO) in Ocala Florida. Additional information on the El Niño, Global Warming and Carbon Dioxide cycles, and hurricanes is available at http://www.globalweathercycles.com.
###