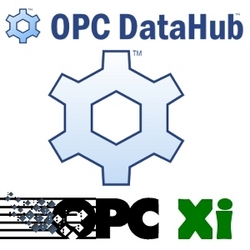 This new addition of native OPC Xi server and client capabilities will greatly enhance the OPC DataHub's value.
Georgetown, Ontario (PRWEB) June 22, 2010
Cogent Real-Time Systems, producer of the OPC DataHub, announces that the next version of the OPC DataHub will be part of the OPC Xi Web Demo, to be held at 10:00 a.m. EDT, on June 29th by the OPC Foundation. The new OPC DataHub provides a native implementation of the recently-introduced OPC Xi (Express Interface) standard, and the demo will showcase several other new DataHub features that will be part of the next major release.
"We are pleased to be a part of this important event," said Andrew Thomas, president of Cogent. "The OPC DataHub has consistently delivered a secure and reliable platform for networking OPC. This new addition of native OPC Xi server and client capabilities will greatly enhance the OPC DataHub's value."
The OPC Xi Web Demo will feature products from Cogent along with other leading OPC tools developers, showing how the OPC Xi standard enhances interoperability and ease of use in the OPC space. The OPC DataHub will showcase both OPC Xi server and client support, seamless integration with existing OPC systems, and a novel drag-and-drop GUI development tool running within a web browser.
Existing OPC technologies, such as OPC DA, HDA, and A&E use Microsoft's COM protocol for data communications. Although reliable on a single computer, the networked version of COM, DCOM (Distributed COM) was not designed for industrial applications, and does not meet the needs of real-time, networked applications. OPC Xi, however, is based on WCF (Windows Communication Foundation) technology, which supports secure and robust communications over a LAN or WAN. Combined with a .NET Managed Code programming environment, OPC Xi is poised to usher in a new breed of OPC servers and clients.
"OPC Xi is the next step forward in OPC," said Mr. Thomas. "People can easily transition from OPC DA to OPC Xi. And when they do, they'll find all their familiar tools in the OPC DataHub, along with a few new ones."
The OPC DataHub gives quick, reliable, and secure access to valuable information direct from the factory floor. It is an integrated tool that can present live process data directly on an engineer's or manager's desk in a form most suitable: database, spreadsheet, or web page. It provides OPC tunnelling, bridging, and aggregation, and has a free API to support virtually any type of OPC connectivity required.
Founded in 1995, Cogent Real-Time Systems is the leader in real-time cross-platform data integration between Windows, Linux and QNX. Customers include the Bank of Canada, Cadbury Chocolate and the European Space Agency. Cogent leverages its experience in real-time data communications to provide the next generation of OPC products.
# # #