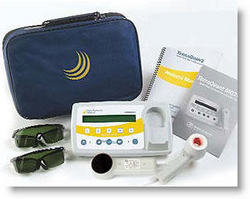 Louisville, CO (PRWEB) June 10, 2010
ColdLasers.Org now sells the state-of-the-art TerraQuant cold laser systems for therapeutic applications. The addition of the TerraQuant product line is only the first step in growing ColdLaser.Org into the one of the best sources for everything associated with cold lasers. It is the goal of ColdLasers.Org to do more than just sell cold laser equipment. ColdLasers.Org brings together resources for all around the world into one location so that people can get real answers about cold laser therapy.
ColdLasers.Org already includes a wide variety of resources including a directory of cold laser treatment centers, information about cold laser research and supplemental information about different cold laser treatment protocols. In the coming months, the site will include a lot of new content including cold laser training videos, additional protocol information for new users and the ability of compare different lasers using an apples-to-apple compare tool.
ColdLasers.Org is so dedicated to having the most complete cold laser resource that the site includes detailed pages about some of best competing cold laser products on the market like the Apollo cold laser for therapeutic applications and the Medx low level lasers for laserpuncture, therapeutic and dental applications. As the domain name implies, ColdLaser.Org a centralized global resource for cold lasers and cold laser therapy information.
As the site establishes its selves as a voice for the cold laser market, ColdLasers.Org will help advance the acceptance of cold lasers in the traditional medical community. High-power medical lasers are widely accepted as the preferred tool in many critical applications like surgery. As a global resource, ColdLasers.Org will help promote low level lasers to the same degree of acceptance. Recent developments in low-level lasers are adding to the growing momentum in using cold laser therapy as a supplement and replacement for tradition therapy plans. Experts around the world now consider cold lasers as an excellent option to traditional drugs and surgery.
Currently cold lasers are used to:
· Treat chronic pain including arthritis pain,
· Increase microcirculation in damaged areas of the body
· Relieve minor muscle and join aches, pains and stiffness
· Relax muscles including muscle spasms
· Treat carpal tunnel, tendonitis, and tennis elbow
· Treat fibromyalgia
· Help accelerate dental healing
· Treat dermatological issues like Alopecia and scalp related problems
· Assist in smoking cessation and weight loss
Because every condition is unique, ColdLasers.Org plans to offer the widest variety of low-level laser devices. Since each device is optimized and qualified for a range of applications, diversity in product lines is critical. Some lasers are Health Canada licensed and some devices are FDA cleared. Some devices focus on pain management and others target smoking cessation or dental healing. By offering products from a wide range of manufacturers, ColdLaser.Org will support a wider range of potential cold laser customers. Unlike some other cold laser web sites that sell foot baths and anti-aging supplements, ColdLasers.Org is focused totally on low-level lasers including therapeutic lasers, laserpuncture products and dental lasers. By focusing on just cold lasers, we feel that we can be a better voice for the cold laser market and give customer the expertise that they need when purchasing a cold laser. The TerraQuant cold laser product line offers both professional and home-use products starting at $1995. ColdLasers.Org is an ISO 9001 compliant business and a member of the Better Business Bureau.
###