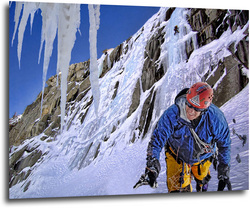 "My friend Doug and I took these pictures of each other on a recent ice climbing expedition in Lee Vining Canyon, California. We're not pro photographers, but these SizzlPix! made from our own digital pictures are a knockout in my dental office. The big
Los Gatos, CA (PRWEB) June 4, 2010
SizzlPix.com, LLC today announced High Definition Photography for display in offices, homes, and buildings. Photographers, Architects, Decorators, and Designers hailed the release.
Modern photography technology outpaces consumer expectations by continually introducing smaller, easier-to-use cameras that produce higher and higher quality images, along with software development that makes the digital darkroom accessible to more and more, even casual, practitioners on ever-more powerful computers and phones; greater choices and lower prices.
For the creator of photography, the opportunities increase exponentially. More people are taking more pictures.
 
For the consumer of photography, those of us who may or may not make the pictures ourselves, but who enjoy displaying fine art photography on the walls of our offices, homes, or appreciating it in public places, there have been few advances since the decline of traditional film and wet darkroom processing.
Inexpensive desktop printers and conventional printing labs and frame shops abound, but the product remains the same: paper or canvas enlargements, usually matted, framed, and under glass, expensive and vulnerable to fading and damage from moisture and sunlight, even the very air we breath. Perhaps most important, even new, they look little different from prints made 10, 20, or 50 years ago. Now, at last, along comes SizzlPix!™ High Definition Photography™, the first really new fine art photography printing technology in decades.
Advanced beyond giclee or other photographic processes, SizzlPix! are not merely printed upon the surface of paper or cloth, but are actually infused to a durable, though lightweight, aluminum base. They are waterproof and have an ultra-hard high gloss coating that is virtually scratch proof. 
Wipe with just soapy water or glass cleaner. You can't damage your SizzlPix!. 
Gloss without Glare! Because there is no glass, glare and reflections are minimized while vibrancy and clarity are enhanced.
SIZZLPIX ARE ENVIRONMENTALLY FRIENDLY.
Unlike ordinary conventional matted and framed prints, SizzlPix waste no paper, glass, plastics nor wood. They're made from aluminum, one of earth's most commonly recycled materials, according to a US Government study.
"Printing photographs on conventional paper, plastic, and canvas often requires dangerous solvents which evaporate, adversely affecting plant personnel and releasing noxious toxins into earth's atmosphere. SizzlPix! manufacturing uses no such solvents. The coating is cured with UV and electron beam units, so no VOCs are released," said Don Sherman, CEO, SizzlPix.com LLC. 
SIZZLPIX ARE ECONOMICAL.
Since you need neither matting nor frame, your savings could pay for your SizzlPix!. Yes, SizzlPix! High Definition Photography presents fine art for your home or office for hundreds, not thousands, of dollars! 
Professionally packaged, ready to hang, with permanent simple 3-D mount already attached, SizzlPix will be securely packaged and shipped free in the US, delivered promptly to a home, your office, or gift recipient anywhere on earth.
"One has to see their own SizzlPix to appreciate their stunning detail, and life-like brilliance, so all customers may order at no risk with an unconditional money-back guarantee of satisfaction," Sherman continued.
Derrick Story, famed professional photographer, writer, and instructor said, "SizzlPix, dye-infused aluminum: what a difference that makes! You have the reflected light from the room, like you do on an ordinary paper or canvas print, but then it's as if the light is bouncing back through the image. They're phenomenal, they're durable, they're environmentally-friendly, it's really cool, but the bottom line is: they look fabulous! You choose an image from their online gallery, or send them one of your own; you get this thing back, and you say, 'Wow! I've never seen anything like this before.' You put it there on the wall, you just look at it; light is bouncing off it. It looks like light is emanating from within the image. It is crisp. It is clear. It has depth that you didn't even realize was in your shot."
###