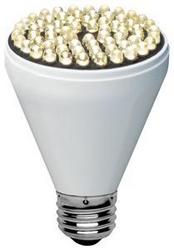 LED lighting is an energy-saving trend - Jeff Hughes, DLB & Victory Lighting Services, product and service specialist
Dallas, TX (PRWEB) June 4, 2010
"LED lighting is an energy-saving trend," said Jeff Hughes, DLB & Victory Lighting Services, product and service specialist. "TCP is a leader in product development and addresses LED bulb color consistency issues with this line. In addition to new LED reflectors, we have also added several Dimmable LED products by Halco, including an 18Watt LED PAR38. This is for those who want the higher wattage, but are having trouble locating it." The 18Watt LED PAR38 by Halco comes in natural and warm white.
LED R20s and R30s -- Product specifications include:

Applications: downlights, recessed lighting, accent lighting, hard to reach areas or vibration
Long Life: 50,000 Hours
UL Wet Location Rated
Rated for Continuous Operation
Excellent Color Consistency from Bulb to Bulb
No Need for Frequent Bulb Replacement or Relamping
Excellent for Rapid Cycling Applications
Rated for Outdoor & Indoor Applications
Voltage: 120
Lumens: N/A
Base: E26
Wattage from 4-6W Depending on Product Selected
MOL (inches): 3.8-5.2 Depending on Product Selected
Diameter (inches) 2.5-3.8 Depending on Product Selected
For more information about LED products or to order light bulbs, visit:
dallaslightbulb.com or call 1-800-548-8369 or 972-241-2852.
DLB and sister company, Victory Lighting Services, are located at 2505 Willowbrook, Dallas, TX 75220.
###