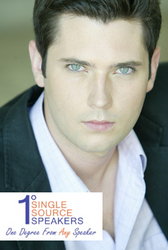 John's passion for his message is contagious. His expertise is unique and will prove incredibly valuable to educators, advertisers and corporations looking to connect with the young adult audience. I am thrilled to journey with him. - Tom Tufts, SSS
Nashville, TN (PRWEB) June 4, 2010
Single Source Speakers, the full service agency for exceptional presenters and outstanding clients such as Drew Brees and Bristol Palin, is proud to announce the exclusive representation of John Magennis. John is a freelance reality tv producer, creator, professional speaker, entrepreneur and social media expert.
Originally from Boston, MA John was a successful teenage entrepreneur who at the age of 14 built an Internet firm from the ground up and grew it into a million dollar company by the time he was 17. Having been considered as one of the most successful young entrepreneurs in the country, John was nominated for the Ernst & Young Entrepreneur of the Year Award and has been featured in over 100 publications and news programs worldwide including Forbes Magazine, MSNBC and the book How to be a Teenage Millionaire.
At the age of 22, John moved to Los Angeles, CA to pursue a career in entertainment. His work in reality television has spanned ABC's "Fat March", NBC's "The Marriage Ref", ABC's "Supernanny", DISCOVERY's "The Alaska Experiment", ABC's "The Bachelor", ANIMAL PLANET's "It's Me or the Dog" & CMT's "World's Strictest Parents."
John is a speaker and presenter in the fields of young entrepreneurship, reality TV and social media and is a consultant for corporations looking to target the coveted 18-35 year old demographic. His inspirational and motivating stories, experiences and advice has connected with audiences at universities, corporate events and conventions.
Single Source Speakers is proud to welcome John to our roster of qualified presenters. For booking information contact Tom Tufts, call 407.575.1335.
###