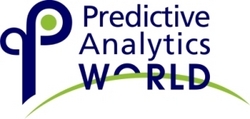 Predictive Analytics World focuses on concrete examples of deployed predictive analytics. Hear from the horse's mouth precisely how Fortune 500 analytics competitors and other top practitioners deploy predictive modeling, and what kind of business impact
Alexandria, VA (PRWEB) June 3, 2010
Predictive Analytics World (pawcon.com), the business-focused event for predictive analytics professionals, managers and commercial practitioners, today announced the speaker line-up for the October 19-20 conference in Washington DC.
PAW's October 2010 program is packed with the top predictive analytics experts, practitioners, authors and business thought leaders, including keynote speakers Piyanka Jain of PayPal, Andrew Pole of Target and Program Chair Eric Siegel, Ph.D. -- plus special sessions from industry heavy-weights Usama Fayyad, Ph.D. and John F. Elder, Ph.D.
Predictive Analytics World is the only conference of its kind, delivering vendor-neutral sessions across verticals such as banking, financial services, e-commerce, education, government, healthcare, high technology, insurance, non-profits, publishing, retail and telecommunications - all covering today's commercial deployment of predictive analytics. The conference delivers case studies, expertise and resources to achieve two objectives:
1) Bigger wins: Strengthen the business impact delivered by predictive analytics
2) Broader capabilities: Establish new opportunities with predictive analytics
And PAW covers the gamut of commercial applications of predictive analytics, including response modeling, customer retention with churn modeling, product recommendations, fraud detection, online marketing optimization, behavior-based advertising, insurance pricing, sales forecasting, text mining and credit scoring.
Why bring together such a wide range of endeavors? No matter how you use predictive analytics, the story is the same: Predicatively scoring customers optimizes business performance. Predictive analytics initiatives across industries leverage the same core predictive modeling technology, share similar project overhead and data requirements, and face common process challenges and analytical hurdles.
Case Studies: How the Leading Enterprises Do It
Predictive Analytics World focuses on concrete examples of deployed predictive analytics. Hear from the horse's mouth precisely how Fortune 500 analytics competitors and other top practitioners deploy predictive modeling, and what kind of business impact it delivers.
The leading enterprises have responded, signing up to tell their stories. PAW's October program includes over 25 sessions across two tracks - an "All Audiences" and an "Expert/Practitioner" track -- so you can witness how predictive analytics is applied at 1-800-FLOWERS, CIBC, Corporate Executive Board, Forrester, Ingram Micro, LifeLine, MetLife, Miles Kimball, Monster, Paychex, PayPal (eBay), SunTrust, Target, UPMC Health Plan, Xerox, and Yahoo!, plus special examples from the U.S. government agencies CBP, NCMI, NGIC, and SSA.
October's agenda covers hot topics and advanced methods such as social data, text mining, search marketing, risk management, survey analysis, consumer privacy, sales force optimization and other innovative applications that benefit organizations in new and creative ways.
Join PAW and access the best keynotes, sessions, exposition, expert panel, live demos, networking coffee breaks, reception, birds-of-a-feather lunches, leading brand-name enterprise leaders, and industry heavyweights in the business.
"Hands down, best applied analytics conference I have ever attended. Great exposure to cutting-edge predictive techniques and I was able to turn around and apply some of those learnings to my work immediately. I've never been able to say that after any conference I've attended before!"
Jon Francis
Senior Statistician
T-Mobile
Predictive Analytics World is produced by leading technology conference organizer Rising Media, Inc..
For more information, see: http://www.predictiveanalyticsworld.com
For a complete overview of the conference agenda, see:
http://www.predictiveanalyticsworld.com/sanfrancisco/2010/agenda_overview.php
Be sure to register by September 10th for the Early Bird rate (save $200) and
take an additional $150 off the Early Bird using discount code: PRJN150.
http://www.predictiveanalyticsworld.com/register.php
For inquiries e-mail registration(at)predictiveanalyticsworld(dot)com or call (717) 798-3495.
###