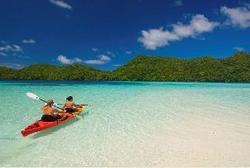 Grand Cayman, Cayman Islands (PRWEB) June 4, 2010
Kayaking to the mangroves or a bioluminescent bay, a day excursion to Cayman Brac, and an Island Adventure in an "Open Air" Land Rover are all included in the new Active Cayman Sampler Package from Cotton Tree, the Cayman Islands' first boutique cottage hotel. During a five-hour island adventure, a Caymanian guide introduces guests to sites in less developed parts of the island such as the Wreck of the Ten Sails and the Blow Holes, sampling some of the island's unique tastes along the way. Also included in the package, guests can choose to kayak to the Central Mangrove Wetlands to see sunbathing iguanas, starfish and sea anemones or at night for a bioluminescence tour. As if that was not enough, guests will go on a one day excursion to Cayman Brac, world renowned for its breathtaking caves, dramatic scenery and exotic ecosystem including the rare Cayman Brac parrot. Accommodations are in one of Cotton Tree's four 1,600 square foot, two-bedroom beachfront cottages that resemble fully-equipped houses and feature "Caribbean chic" décor, classic contemporary furnishings, French doors, plasma TVs, state-of-the-art Kitchen Aid appliances, and more. A media library of books, music and DVDs; breakfast items (a selection of coffees and teas, juices, eggs, cereal and yogurt) pre-stocked in the cottages; WIFI and local calls; fresh fruit; bicycle rentals; Wii and roundtrip airport transfers are also included. Available until September, the three-night Active Cayman Sampler Package costs $2,980 for two people or $3,580 for four. Taxes are additional. For more information or reservations, please call 345.943.0700 or visit http://www.caymancottontree.com.
About Cotton Tree:
The Cayman Islands' new luxury hideaway, Cotton Tree, on the northernmost point of Grand Cayman (ten minutes from the famed Seven Mile Beach), beautifully evokes the spirit of the Cayman Islands with its pastel-hued, plantation-style cottages just steps from the Caribbean Sea amidst a lush garden setting of tropical flowers and avocado, guava, mango and cotton trees for which the hotel was named. Owner Heather Lockington, a global traveler who was born in the Cayman Islands, built her dream property in West Bay, creating an authentic haven where guests could embrace Caymanian heritage. Additional amenities include a freshwater swimming pool, fitness center and yoga and spa pavilions nestled among Seagrape trees, perfect for a sunset massage. A personal chef can whip up gourmet meals accompanied by wines chosen by a sommelier, or Cotton Tree is a quick drive to Grand Cayman's best restaurants. Additionally, hotel services such as a reception/concierge, bellhop, housekeeping and turndown on request are also featured.
# # #