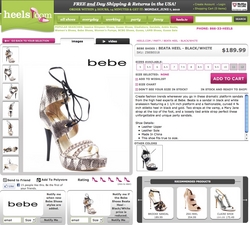 "We've taken the market's feedback and crafted plans that bring affordable and easy to use product recommendations to retailers of all sizes. Our growth this year signifies that we're on the right path."
San Francisco, CA (PRWEB) June 4, 2010
Strands Recommender, a cost-effective provider of personalized product recommendations, today announced the addition of 15 new online retailers to their customer base during Q2 incuding cdWow, Kitson, MetroPark, Inspired Silver and Moviepostershop.com.
"We're very pleased with the growth we've seen this year. There was a time when retailers could not afford to implement costly product recommendation solutions," said Trevor Legwinski, Sr. Director of Marketing for Strands Recommender. "We've taken the market's feedback and crafted plans that bring affordable and easy to use product recommendations to retailers of all sizes. Our growth this year signifies that we're on the right path."
In an effort to make recommendations easier to install and more affordable Strands Recommender is also announcing new personalized recommendation plug-ins for Miva Merchant and Magento shopping carts. The plug-ins will bring recommendations to more than 100,000 merchants with a simple install. Additionally, Strands has opened up their API providing developers the ammo to create plug-ins for any shopping cart in the marketplace.
Focusing On Retail Industry Thought Leadership
M-commerce and Social Commerce are two trends poised for growth this year. Last week, Strands Recommender hosted the first interactive Live Video Webinar with Forrester Vice President and Principal Analyst, Sucharita Mulpuru, and Director of Social Media at Heels.com, Suleika Bloom. The webinar, attended by over 300 retailers, was designed to help attendees prioritize the top 8 Social Commerce technologies currently available and learn first-hand from Heels.com's social strategy. You can view the webinar here: http://bit.ly/cdQMH2
Improving the Online Customer Shopping Experience
While shopping in brick and mortar stores, customers are greeted by brand representatives who are able make the shopping experience a pleasure through personal relationship building. Strands Recommender has taken this process and has improved its recommender algorithm to make online shopping more personal. The recommender engine now automatically creates an anonymously profile comprised of shopper's buying preferences such as sizes, favorite brands, colors of choice and shopping context. When the shopper returns to the site, the products shown will automatically reflect their size, favorite colors and brands as well as help them discover new products based on their tastes.
About Strands Recommender:
Strands Recommender is a San Francisco-based personalized product recommendation company that helps retailers save time and increase their sales by personalizing the shopping experience and tailoring their email marketing campaigns to each customer. The company provides simple and affordable product recommendations software to more than 50 customers ranging in size from $1M – $150M+ year, including cdWow, TravelSmith and SkyMall. Monthly pricing plans range from a starter plan of $149 per month including a 30 day trial, up to enterprise level plans starting at $999 per month.
###