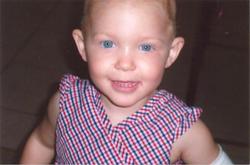 "Grace's fight has ended but the battle is far from over," said Becky Scasny. "The research for and awareness of neuroblastoma must continue."
Bartlett, IL (PRWEB) June 3, 2010
The Amazing Grace Golf Tournament has raised more than $100,000 for the Children's Neuroblastoma Cancer Foundation (CNCF) http://www.nbhope.org for neuroblastoma research and education programs. This year's event will again be held at the Houston Oaks Golf Course, 22602 Hegar Road, Hockley, TX, (713) 888-0000. A fun-filled family event, festivities will kick off at 8 am with one of two shotgun starts (second at 1:30 pm). The golf portion of the event will include a 4-person scramble format. For a donation of $180 per player, the Amazing Grace Tournament will include lunch and dinner, a live auction, drawing for a Flat Screen television, silent auction, DJ/Robbie Seay Band, swimming pool/kiddie pool with life guards, fishing and paddlewheel boats, horse shoe competitions, grass and sand volleyball, baseball, kickball and a moonwalk.
"This is a very special event in memory of a very special little girl," said Patricia Tallungan, founder of CNCF. "The heart of CNCF comes from families like the Scasny's. We hope everyone will bring their families and friends out to support this event and our efforts to raise funds to find a cure for neuroblastoma."
Born on March 10th, 2004, Grace Ashley Scasny was the apple of her Mom and Dad's eyes. Grace was a very active little red head always keeping her parents on their toes. On January 14th 2006, her daddy's birthday, Grace's parents were told there was a tumor in her abdomen. In an instant Grace was transformed from an active fun loving toddler to a cancer patient with neuroblastoma. Chemo treatments began almost immediately to try to kill the vicious cancer. Gracie was such a trooper through all of her treatments. She always had a song to sing and on her good days, she would march around the halls of the ninth floor at Texas Children's Hospital.
Despite surgery, numerous rounds of chemo and unending prayers, the cancer continued to spread in Gracie's little body. On September 11, the Scasny family was told there was nothing left to try. On October 7, 2006 Grace Ashley passed away at just 2 years old.
"Grace's fight has ended but the battle is far from over," said Becky Scasny. "The research for and awareness of neuroblastoma must continue."
To participate in the event, become a sponsor or make a donation, please contact Scott Scasny at (281) 256-3979 or via email at sbscaz@yahoo.com.
About Neuroblastoma
Neuroblastoma is a solid tumor cancer that arises in immature nerve cells and strikes mainly infants and toddlers. It is the most common cancer affecting infants with an incidence rate almost double that of leukemia. Its cause is unknown. Nearly 70 percent of children diagnosed with neuroblastoma have advanced–stage disease. Less than 40 percent of children with advanced stage disease live five years.
About Children's Neuroblastoma Cancer Foundation
The Children's Neuroblastoma Cancer Foundation (CNCF) is a non-profit national health organization committed to finding a cure for neuroblastoma through research, education, awareness and advocacy. The premier source for neuroblastoma information and resources, CNCF initiatives educate the public about a disease dramatically lacking in awareness and funding. It serves as an advocate for families by influencing relevant legislation, as well as a liaison between healthcare providers and families. To learn more, visit http://www.nbhope.org.
###