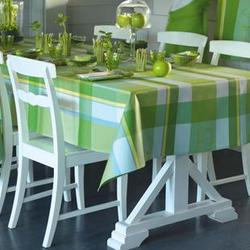 Summer is the perfect time to enjoy simple pleasures ~ sharing a meal and conversation with friends and family. A beautiful tablecloth makes it a celebration. The right tablecloth makes it a worry-free celebration!
Pittsburgh, PA (PRWEB) June 17, 2010
Just in time for summer entertaining, Tournesol, the premier fine table linen shop in Pittsburgh, offers a collection of stain-resistant tablecloths on its newly launched website, http://www.tournesolgifts.com. It is now possible to set a well-dressed table...and not worry about spills and stains of barbecue sauce, red wine sangria or blueberry pie on the tablecloth. Stain-resistant tablecloths are available in standard and custom sizes from the world's finest designers. Although particularly practical during for summer entertaining, these tablecloths are investments that can used year round.

About Tournesol:
Tournesol celebrates the world! Barbara Reilly's shop in Pittsburgh, Pennsylvania, offers the finest selection of fine table linens in town, distinctive dinnerware and gifts for the home from around the world...and the highest level of personalized service. Tournesol is committed to bringing the same quality of items and service online.
# # #