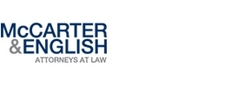 In the current economy, business development is more important than ever
Newark, NJ (PRWEB) June 4, 2010
McCarter & English LLP announced today that it has teamed up with 85 Broads, a leading global women's networking organization with over 20,000 members worldwide. More than 50 of the firm's women partners and senior associates have joined the organization -- which promotes leadership in business development and provides access to several networking opportunities. McCarter is one of the first law firms to provide its women professionals with the opportunity for firm-wide membership. A wide variety of other law firms and corporations are presently in similar negotiations with 85 Broads.
"McCarter is fully committed to the career development of its women attorneys; it is a priority," said Michael P. Kelly, chairman of McCarter & English's Executive Committee. "85 Broads will offer McCarter's senior women attorneys' invaluable opportunities to grow and sustain their legal practices by working with and learning from other like-minded women who have achieved distinction in their respective fields."
"We are very pleased to welcome McCarter & English into the 85 Broads community," said Kelly Hoey, President of 85 Broads LLC. "85 Broads is a multigenerational global network of ambitious, intelligent women who want to inspire each other to succeed and who passionately believe in the value of investing in smart women. I see these characteristics in the many women of McCarter and look forward to their contributions."
85 Broads is an exclusive global women's network whose mission it is to generate exceptional professional and social value for its members. The women in 85 Broads are investment bankers, lawyers, educators, venture capitalists, hedge fund managers, philanthropists, athletes, scientists, doctors, engineers, artists, and entrepreneurs. Through regional events and an online community, members engage in a rapid, high-powered exchange of ideas and information. This dynamic communication is what makes 85 Broads so unique. Today, members are located in 82 countries around the world and work for more than 3,500 for-profit companies and not-for-profit organizations.
"In the current economy, business development is more important than ever," said Stephanie Cohen, a partner in McCarter's Newark office and member of the Women's Initiative Steering Committee. A member of the Leadership Team for 85 Broads New York Chapter, Ms. Cohen spearheaded the firm's involvement with the organization. "Partnering with 85 Broads will allow our women attorneys to build key relationships, which, in turn, will strengthen their ability to become firm leaders as well as enhance their own personal social and community development skills."
McCarter & English, one of the oldest law firms in America, has a history of supporting the equality of women under the law and in the legal profession as a whole. With the support of firm management, McCarter boasts a very active Women's Initiative whose mission it is to build positive relationships with colleagues, peers, clients and the broader communities in which the members live and work.
About McCarter & English
McCarter & English, LLP, established more than 160 years ago, represents Fortune 500 and middle-market companies in their national, regional and local litigation and on important transactions. Its 400 attorneys are based in offices in Boston, Hartford, New York, Newark, Philadelphia, Stamford and Wilmington. http://www.mccarter.com
###