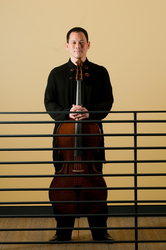 Brahms' sonatas are sublime, but I also want to tear around my instrument like a gypsy fiddler.
Austin, TX (PRWEB) June 17, 2010
Austin, TX and Croton-on-Hudson, NY (PRWEB) June 17, 2010 -- Grammy nominated cellist Bion Tsang and pianist Anton Nel energize the familiar melodies of composer Johannes Brahms while championing four new arrangements of his iconic Hungarian Dances in a new live CD recorded at the New England Conservatory's Jordan Hall. Tsang, a Tchaikovsky Competition medalist and Avery Fisher Career Grant winner, and longtime collaborator Nel have enthralled audiences from Seattle to Boston for the last two decades. This year they are wowing tens of thousands of YouTube viewers with performances of Tsang's cello arrangements of Hungarian Dances 1, 2, 4 and 5, some of the most popular classical melodies of the 19th and 20th centuries.
Their new CD, "Bion Tsang and Anton Nel: Live in Concert, Brahms Cello Sonatas and Four Hungarian Dances," is now available from Artek Recordings with distribution by NAXOS and is also available on Amazon.com and iTunes. Seattle-based classical music critic R.M. Campbell, who has covered Tsang's and Nel's regular appearances at the Seattle Chamber Music Festival since 1996, contributed liner notes.
Like a Shakespearean actor who also loves Broadway, Tsang longs to express every sensibility. "Brahms sonatas are sublime, but I also want to tear around my instrument like a gypsy fiddler," he says. "So although there is another version of the Hungarian Dances for cello and piano by Carlo Alfredo Piatti, I chose to work off of Joachim's violin versions because of their familiarity to string players and audiences alike. More importantly, I wanted the challenge of stretching the limits of cello playing."
Staying true to Joachim's arrangements, Tsang kept his cello transcription in the same key as the violin, making the lively Hungarian Dances even harder to play on his larger stringed instrument.
Tsang has tackled this musical territory throughout his three-decade career. As a soloist, he has championed violin virtuoso pieces as encores including Heifetz's versions of Khachaturian's "Sabre Dance" and Castelnuovo Tedesco's "Figaro."
Tsang admits that a lot of cellists including him tend to have violinist envy. "I envy their repertoire and the greater virtuoso possibilities of the smaller instrument," says Tsang, now 43, who began playing cello at age 7 and made his debut with the New York Philharmonic at age 11. "The cello is the quintessential dark, soulful, human sounding instrument, and that's wonderful in the two Brahms cello sonatas."
From meeting as chamber players in New York and Seattle over 15 years ago, Bion Tsang and Anton Nel have developed a musical camaraderie that continues to electrify audiences from coast to coast. In 2006, Tsang and Nel toured the complete Beethoven works for cello and piano in Texas, Seattle, Boston, Chicago and New York including the new Zankel Hall at Carnegie Hall and Jordan Hall in Boston. Their Boston performance, recorded by WGBH-FM, was released by Artek Recordings in 2006 to critical acclaim with Fanfare magazine stating, "These are highly satisfying readings on every count…Easily recommended."
About Bion Tsang:
A 2010 Grammy-nominee for his performance with acclaimed choral ensemble Conspirare, cellist Bion Tsang has been hailed as one of the outstanding instrumentalists of his generation. The Los Angeles Times calls him "an artist that guarantees the future of our music." The recipient of a Bronze Medal from the IX International Tchaikovsky Competition and an Avery Fisher Career Grant, Tsang has performed as a guest soloist with ensembles including New York, Moscow and Hong Kong Philharmonic Orchestras, the American and National Symphony Orchestras, and the Hollywood Bowl Orchestra.
Tsang is a respected chamber collaborator, having performed with artists as violinists Pamela Frank, Jaime Laredo, Cho-Liang Lin, Anne Akiko Meyers and Kyoko Takezawa; violist Michael Tree; cellist Yo-Yo Ma; bassist Gary Karr; and pianist Leon Fleisher. He has been a frequent guest artist of the Boston Chamber Music Society, Brooklyn Chamber Music Society, Chamber Music International of Dallas, DaCamera of Houston, Camerata Pacifica of Los Angeles and Bargemusic in New York. He has performed at such festivals as Marlboro Music Festival, the Cape Cod, Tucson, Portland and Seattle Chamber Music Festivals, the Bard Festival, Bravo! Colorado, Music in the Vineyards and the Laurel Festival of the Arts, where he served as artistic director for ten years.
Tsang's recordings include Beethoven Sonatas and Variations for Cello/Piano (with Nel), Artek Recordings; Zoltán Kodály Works for Violin and Cello (with Alexandre Brussilovsky); Richard Strauss/Joaquin Turina Quartets for Piano and Strings; and Franz Schubert and Robert Schumann Works for Cello and Piano (with Richard Bishop); and "A Company of Voices: Conspirare in Concert" (with Craig Hella Johnson and Conspirare).
Tsang is an associate professor of cello at the Butler School of Music at The University of Texas at Austin.
About Anton Nel:
Anton Nel, winner of the first prize in the 1987 Naumburg International Piano Competition at Carnegie Hall, enjoys a remarkable and multifaceted international career. Over three decades of concertizing include performances with the Cleveland Orchestra, the symphonies of Chicago, San Francisco, Seattle, Detroit, and London, among many others. As recitalist he has appeared at Carnegie Hall, Lincoln Center, the Metropolitan Museum and the Frick Collection in New York, at the Ambassador Auditorium in Pasadena, Davies Hall in San Francisco, and the Library of Congress in Washington, DC. Internationally he has performed recitals in major concert halls in Canada, England (Queen Elizabeth and Wigmore Halls in London), France, Holland (Concertgebouw in Amsterdam), Japan (Suntory Hall in Tokyo), Korea, and South Africa.
A favorite at summer festivals and known for his encyclopedic chamber music and vocal repertoire, Nel has collaborated with many of the world's foremost string quartets, instrumental soloists, and singers. His recordings include three solo CDs and numerous chamber music recordings including "Anton Nel in Recital," the complete Beethoven Sonatas and Variations for Piano and Cello (with Tsang), and the Faure Ballade and Franck Symphonic Variations with the Philharmonia Virtuosi (ESS.A.Y).
Nel is a Professor of Piano and Chamber Music at the Butler School of Music at The University of Texas at Austin where he holds the Joe R. and Teresa Lozano Long Endowed Chair in Piano.
# # #