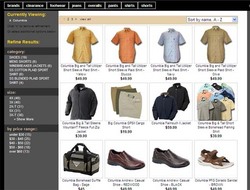 Rochester, NY and Piscataway NJ (PRWEB) June 4, 2010
UniteU Technologies, Inc., a leading provider of integrated, on-demand e-commerce applications and Celebros, a global leader in revenue optimizing solutions for online stores, are announcing the availability of Filtered Navigation Search Express (FNS Express) and Dynamic Cross Sell products. The solutions are based on Celebros Conversion Technology and designed to extend the UniteU Connected Commerce platform in a seamless way. The new technologies were introduced in response to increasing e-retailer demand for cost effective advanced site-search, personalization and self-service solution management capabilities. The 2 product releases mark a 5 year strategic partnership between UniteU and Celebros.
"The UniteU Filtered Navigation Search (FNS) product has been wildly successful with our higher volume, larger catalog clients", reports Monica Kraft, Director of Product Marketing and Management for UniteU. "Our merchants see a 40-50% increase in conversion rate immediately upon adding FNS. However, not all of our merchants require the sophistication of the higher-end Celebros Semantic SiteSearch technology and the Salesperson Merchandizing Desktop. Personalizing the shopping experience and providing relevant content in the shortest path possible is what FNS is all about. The new FNS Express provides the merchant with more options that include a "hands-off" approach that results in similar conversion rate benefits. FNS Express is a great example of how our continued partnership with Celebros delivers more value to our clients," says Kraft.
Celebros responded with the introduction of its Web-based Studio, a search management application that exposes the priority tasks in a user-friendly way. The ability to intuitively manage search questions and answers, synonyms and merchandizing content, coupled with "how-to" tutorial videos puts the power into the hands of the merchant. The Dynamic Cross Sell solution leverages Studio for configuring merchandizing rules, as well as product search data to automatically present relevant, smart cross-sell product suggestions anywhere on the site. The real benefits are realized in both labor savings and increased order values.
As a Software-as-a-Service (SaaS) provider since 1999, UniteU offers both of these features in a cost-effective and highly scalable way, optimizing ROI to the merchant. "Combining the UniteU platform with the Celebros Conversion Technology - the whole is more than the sum of its parts. UniteU's expertise in delivering custom designs, highly usable, high performance shopping sites and their knowledge of shopper behaviors coupled with our superior technology and ability to develop solutions quickly and effectively creates a dynamic and successful strategic partnership," said Itai Bass, VP of Business Development at Celebros.
About Celebros
Celebros (http://www.celebros.com) is a global leader in revenue optimizing solutions for online stores. The Celebros Salesperson, an intelligent site-search platform, includes incoming traffic generation tools and a powerful recommendation engine that focuses on improving the financial indicators of online stores, in the form of increased conversion rate and revenues.
About UniteU
UniteU Technologies, Inc. is a leading provider of on-demand ecommerce solutions delivered thru the SaaS model. The company's ecommerce solutions are designed to help companies of all sizes maximize online revenues as well as reduce the costs and risks of running an e-commerce operation. UniteU has powered startups who reached the pinnacles of top 100 status. The UniteU Connected Commerce platform is PCI compliant and adapts and scales to meet the ever-changing needs of multi-channel retailers; supporting custom designs, integration, rich media, advanced promotions, multiple payment and shipping options and intuitive search and navigation capabilities. UniteU also retains valuable expertise, offering premier managed hosting, web analytics, in addition to e-business consulting and web marketing services that drive traffic, conversions and retention. Go to http://www.uniteu.com to learn more.
Media contact: Kevin Oliver, http://www.uniteu.com - kevin.oliver(at)uniteu(dot)com
Learn more about UniteU Ecommerce Solutions
# # #