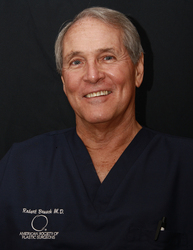 "The patients have responded beautifully. In this case, the patient was "out and about" after two days. She reported great satisfaction with the entire experience."
Fort Myers, FL (PRWEB) June 5, 2010
In what is believed to be a Florida first, Dr. Robert J. Brueck MD FACS, Fort Myers cosmetic surgeon, has applied stem cell therapy to facial rejuvenation and face lift..
According to Dr. Brueck, stem cells already exist in a person's fat. It can be harvested and spun down. It is then mixed with Protein-Rich Plasma (PRP) from the patient's own blood supply. PRP is the result of the blood being spun down to create a middle portion, called the "buffy coat." This portion of the person's blood contains platelets and growth factors. The PRP is then mixed with the stem cells and growth hormone. In the case of facial rejuvenation, the PRP/stem cell mixture is injected into facial areas where enhanced healing is desired.
Since the recipient of the stem cells is the same person as the donor, unlike transplants or synthetic fillers, the system more readily accepts the injected material. This provides volume where desired and encourages rapid healing as the stem cells regenerate appropriate new cells beneath the patient's skin.
The procedure has many advantages. It is especially promising in cases where there has been sun-damage or other damage to the skin. The new cells promote healing of the skin in addition to volumizing the area.
"I had my own experience with stem cells recently when the therapy was used promote healing in an ankle that had been damaged when I was young," Dr. Brueck stated. "Over the years, it had developed a painful arthritic condition. I was so pleased with the results that I determined to see if the same basic process could be used to promote healing after face lift surgery."
On a recent Friday, Dr. Brueck performed three face lift procedures in his Fort Myers cosmetic surgery center using stem cell therapy. If not the first time the technique has been employed for this purpose in Florida, it is among the first and very likely the first in Southwest Florida, according to Dr. Brueck.
"The patients have responded beautifully," Dr. Brueck reported. "In one case, the patient was "out and about" the following Monday. She reported great satisfaction with the entire experience."
Dr. Brueck is Board Certified and Fellowship Trained in cosmetic surgery. He practices in Fort Myers and Cape Coral, FL. His primary office is at 3700 Central Avenue, Fort Myers, FL 33901. Phone 239-939-5233. He posts a popular web site on the subject of plastic surgery at http://www.Beauty-by-Brueck.com. He has published a video of him explaining the procedure to a patient, which may be viewed at his blog, http://DrBruecksBlog.blogspot.com , The video is also available on YouTube.
Dr. Brueck is available for interview and more information by contacting his aesthetic coordinator, Judy Dennison, at 239-939-5233
# # #